01.12.2017 | Research article | Ausgabe 1/2017 Open Access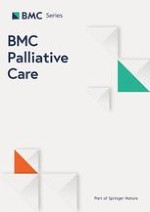 Palliative sedation challenging the professional competency of health care providers and staff: a qualitative focus group and personal written narrative study
Zeitschrift:
Autoren:

Danièle Leboul, Régis Aubry, Jean-Michel Peter, Victor Royer, Jean-François Richard, Frédéric Guirimand
Abstract
Background
Despite recent advances in palliative medicine, sedating a terminally ill patient is regarded as an indispensable treatment to manage unbearable suffering. With the prospect of widespread use of palliative sedation, the feelings and representations of health care providers and staff (carers) regarding sedation must be carefully explored if we are to gain a better understanding of its impact and potential pitfalls. The objective of the study was to provide a comprehensive description of the opinions of carers about the use of sedation practices in palliative care units (PCU), which have become a focus of public attention following changes in legislation.
Methods
Data were collected using a qualitative study involving multi-professional focus groups with health care providers and staff as well as personal narratives written by physicians and paramedical staff. A total of 35 medical and paramedical providers volunteered to participate in focus group discussions in three Palliative Care Units in two French hospitals and to write personal narratives.
Results
Health care provider and staff opinions had to do with their professional stance and competencies when using midazolam and practicing sedation in palliative care. They expressed uncertainty regarding three aspects of the comprehensive care: biomedical rigour of diagnosis and therapeutics, quality of the patient/provider relationship and care to be provided. Focusing on the sedative effect of midazolam and continuous sedation until death, the interviewed health care providers examined the basics of their professional competency as well as the key role played by the health care team in terms of providing support and minimizing workplace suffering. Nurses were subject to the greatest misgivings about their work when they were called upon to sedate patients.
Conclusions
The uncertainty experienced by the carers with regard to the medical, psychosocial and ethical justification for sedation is a source of psychological burden and moral distress, and it has proved to be a major source of suffering in the workplace. Lastly, the study shows the uncertainty can have the positive effect of prompting the care team to devise ways to deal with it.