01.12.2012 | Study protocol | Ausgabe 1/2012 Open Access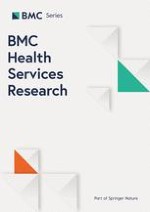 Pan-Britain, mixed-methods study of multidisciplinary teams teaching parents to manage children's long-term kidney conditions at home: Study protocol
Zeitschrift:
Autoren:

Veronica M Swallow, Davina Allen, Julian Williams, Trish Smith, Jean Crosier, Heather Lambert, Leila Qizalbash, Lucy Wirz, Nicholas JA Webb
Wichtige Hinweise
Electronic supplementary material
The online version of this article (doi:
10.​1186/​1472-6963-12-33
) contains supplementary material, which is available to authorized users.
Competing interests
The authors declare that they have no competing interests.
Authors' contributions
VS conceived and initiated the study, VS and DA conceptualised and designed the study, JW, HL, TS, LW, LQ, JC and NJAW contributed to study design and conceptualisation and with VS and DA secured external funding; all authors approved the final version of the manuscript
Abstract
Background
Care of children and young people (children) with long-term kidney conditions is usually managed by multidisciplinary teams. Published guidance recommends that whenever possible children with long-term conditions remain at home, meaning parents may be responsible for performing the majority of clinical care-giving. Multidisciplinary team members, therefore, spend considerable time promoting parents' learning about care-delivery and monitoring care-giving. However, this parent-educative aspect of clinicians' role is rarely articulated in the literature so little evidence exists to inform professionals' parent-teaching interventions.
Methods/Design
This ongoing study addresses this issue using a combination of quantitative and qualitative methods involving the twelve children's kidney units in England, Scotland and Wales. Phase I involves a survey of multidisciplinary team members' parent-teaching interventions using:
i)
A telephone-administered questionnaire to determine: the numbers of professionals from different disciplines in each team, the information/skills individual professionals relay to parents and the teaching strategies/interventions they use. Data will be managed using SPSS to produce descriptive statistics
ii)
Digitally-recorded, qualitative group or individual interviews with multidisciplinary team members to explore their accounts of the parent-teaching component of their role. Interviews will be transcribed anonymously and analysed using Framework Technique. Sampling criteria will be derived from analysis to identify one/two unit(s) for subsequent in-depth study
Phase II involves six prospective, ethnographic case-studies of professional-parent interactions during parent-teaching encounters. Parents of six children with a long-term kidney condition will be purposively sampled according to their child's age, diagnosis, ethnicity and the clinical care-giving required; snowball sampling will identify the professionals involved in each case-study. Participants will provide signed consent; data gathering will involve a combination of: minimally-obtrusive observations in the clinical setting and families' homes; de-briefing interviews with participants to obtain views on selected interactions; focussed 'verbatim' field-notes, and case-note reviews. Data gathering will focus on communication between parents and professionals as parents learn care-giving skills and knowledge. Interviews will be digitally recorded and transcribed anonymously.
Discussion
This study involves an iterative-inductive approach and will provide a unique, detailed insight into the social context in which professionals teach and parents learn; it will inform professionals' parent-educative roles, educational curricula, and health care policy