01.12.2018 | Research | Ausgabe 1/2018 Open Access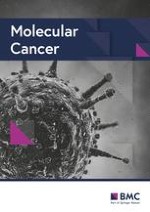 Paracrine and epigenetic control of CAF-induced metastasis: the role of HOTAIR stimulated by TGF-ß1 secretion
Zeitschrift:
Autoren:

Yu Ren, Huan-huan Jia, Yi-qi Xu, Xuan Zhou, Xiao-hui Zhao, Yun-fei Wang, Xin Song, Zhi-yan Zhu, Ting Sun, Yan Dou, Wei-ping Tian, Xiu-lan Zhao, Chun-sheng Kang, Mei Mei
Wichtige Hinweise
Electronic supplementary material
Abstract
Background
The communication between carcinoma associated fibroblasts (CAFs) and cancer cells facilitate tumor metastasis. In this study, we further underlying the epigenetic mechanisms of CAFs feed the cancer cells and the molecular mediators involved in these processes.
Methods
MCF-7 and MDA-MB-231 cells were treated with CAFs culture conditioned medium, respectively. Cytokine antibody array, enzyme-linked immunosorbent assay, western blotting and immunofluorescence were used to identify the key chemokines. Chromatin immunoprecipitation and luciferase reporter assay were performed to explore the transactivation of target LncRNA by CAFs. A series of in vitro assays was performed with RNAi-mediated knockdown to elucidate the function of LncRNA. An orthotopic mouse model of MDA-MB-231 was conducted to confirm the mechanism in vivo.
Results
Here we reported that TGF-β1 was top one highest level of cytokine secreted by CAFs as revealed by cytokine antibody array. Paracrine TGF-β1 was essential for CAFs induced EMT and metastasis in breast cancer cells, which is a crucial mediator of the interaction between stromal and cancer cells. CAF-CM significantly enhanced the HOTAIR expression to promote EMT, whereas treatment with small-molecule inhibitors of TGF-β1 attenuated the activation of HOTAIR. Most importantly, SMAD2/3/4 directly bound the promoter site of HOTAIR, located between nucleotides -386 and -398, -440 and -452, suggesting that HOTAIR was a directly transcriptional target of SMAD2/3/4. Additionally, CAFs mediated EMT by targeting CDK5 signaling through H3K27 tri-methylation. Depletion of HOTAIR inhibited CAFs-induced tumor growth and lung metastasis in MDA-MB-231 orthotopic animal model.
Conclusions
Our findings demonstrated that CAFs promoted the metastatic activity of breast cancer cells by activating the transcription of HOTAIR via TGF-β1 secretion, supporting the pursuit of the TGF-β1/HOTAIR axis as a target in breast cancer treatment.