01.12.2012 | Primary research | Ausgabe 1/2012 Open Access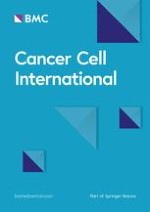 Paralemmin-1 is over-expressed in estrogen-receptor positive breast cancers
Zeitschrift:
Autoren:

Casey M Turk, Katerina D Fagan-Solis, Kristin E Williams, Joseph M Gozgit, Sallie Smith-Schneider, Sharon A Marconi, Christopher N Otis, Giovanna M Crisi, Douglas L Anderton, Manfred W Kilimann, Kathleen F Arcaro
Wichtige Hinweise
Electronic supplementary material
The online version of this article (doi:
10.​1186/​1475-2867-12-17
) contains supplementary material, which is available to authorized users.
Competing interests
The authors declare that they have no competing interests.
Authors' contributions
CMT, KDF-S, KEW and JMG contributed to the cell culture analyses, both protein and mRNA, and to the mRNA analyses in primary tumor and RM. CMT designed the primers for the splice variant analysis; SSS provided guidance and RM tissue; SAM performed the immunohistochemistry; CNO supervised optimization of the performance of the paralemmin-1 antibody, and scored all TMAs; GMC reviewed cases, selected tissue blocks to be used for the TMAs, and scored all TMAs; DLA provided assistance in design and statistical analysis; MWK provided the paralemmin-1 antibody and interpretation of results; KFA provided overall guidance, analysis and prepared the manuscript. All authors read, critically evaluated, edited, and approved the final manuscript.
Abstract
Background
Paralemmin-1 is a phosphoprotein lipid-anchored to the cytoplasmic face of membranes where it functions in membrane dynamics, maintenance of cell shape, and process formation. Expression of paralemmin-1 and its major splice variant (Δ exon 8) as well as the extent of posttranslational modifications are tissue- and development-specific. Paralemmin-1 expression in normal breast and breast cancer tissue has not been described previously.
Results
Paralemmin-1 mRNA and protein expression was evaluated in ten breast cell lines, 26 primary tumors, and 10 reduction mammoplasty (RM) tissues using real time RT-PCR. Paralemmin-1 splice variants were assessed in tumor and RM tissues using a series of primers and RT-PCR. Paralemmin-1 protein expression was examined in cell lines using Western Blots and in 31 ductal carcinomas
in situ,
65 infiltrating ductal carcinomas, and 40 RM tissues using immunohistochemistry. Paralemmin-1 mRNA levels were higher in breast cancers than in RM tissue and estrogen receptor (ER)-positive tumors had higher transcript levels than ER-negative tumors. The Δ exon 8 splice variant was detected more frequently in tumor than in RM tissues. Protein expression was consistent with mRNA results showing higher paralemmin-1 expression in ER-positive tumors.
Conclusions
The differential expression of paralemmin-1 in a subset of breast cancers suggests the existence of variation in membrane dynamics that may be exploited to improve diagnosis or provide a therapeutic target.