01.12.2020 | Commentary | Ausgabe 1/2020 Open Access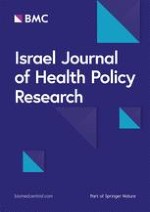 Paramedics and Physician Assistants in Israel
Zeitschrift:
Autor:

Roderick S. Hooker
Wichtige Hinweise
Publisher's Note
Springer Nature remains neutral with regard to jurisdictional claims in published maps and institutional affiliations.
Abbreviations
OECD
Organization for economic cooperation and development
PA
Physician assistant or physician associate
Introduction
As of 2018, Israel had 3.1 clinically active physicians per capita, close to the median (3.2) of other countries highlighted in a report from the OECD [Organization for Economic Cooperation and Development] [
1
]. The availability of clinically active physicians in Israel is about 20% higher than in the U.S. (Fig.
1
).
×
A number of attributes are notable about Israel: fiscal performance is rated good, strong macroeconomic growth is underway, unemployment is low, and its citizens enjoy universal healthcare [
2
]. Nonetheless, Israel is also struggling with some health professional issues and one, emergency medicine, is at the forefront. The challenge is the growing number of patients and an aging population without concurrent growth in staffing levels in emergency departments (EDs). Shortages in emergency medical staff have led to long waiting times, burnout, dissatisfied patients, and inefficient treatment [
3
].
In 2019 two papers were published in this journal about Israeli emergency medicine – with one focused on paramedics and the other focused on physician assistants (PAs) [
3
,
4
]. Dopelt et al. described Israeli paramedics as spread thinly, about 8 per 100,000, when compared to the US with approximately 25 per 100,000 (
https://​www.​bls.​gov/​oes/​current/​oes292041.​htm
). They report that 73% depart after 5 years and 93% have left their paramedic role after 10 years – a high rate of turnover compared with most other health professions. Various reasons are offered for the Israeli paramedics' departure. "I felt that I had no career advancement opportunities" ranked high on the list – 83%.
Maoz-Breuer and colleagues discuss the introduction of PAs into Israeli EDs. Two graduation cohorts of 30 each have been deployed in 17 of the 34 EDs around the country. All of the graduates were paramedics, and all were part of a pilot study undertaken by the Ministry of Health to see if an unsatisfactory phase in the career of a paramedic can serve as a springboard for a more sustaining one. In the Maoz-Breuer et al. paper, the survey of the 'former-paramedics-now-PAs' reported personal fulfillment, career prospects, and wage improvement as leading reasons for job or role satisfaction.
Discussion
Conclusion
Israel is at the forefront of many medical and technological advances; and introducing PAs into a mature healthcare system, should be a very good addition to Israel's medical workforce. The early results in emergency medicine seem promising. The challenge will be extending this success, seeing if more paramedics can be attracted to becoming PAs rather than leaving healthcare entirely, and determining if the medical system and general public will embrace PA roles not only in the ED but in other fields as well.
Acknowledgements
None.
Availability of data
Not applicable, none used.
Ethics approval
No ethics approval was sought, none was required. Waived.
Consent for publication
Is agreed.
Competing interests
None.
Open Access
This article is distributed under the terms of the Creative Commons Attribution 4.0 International License (
http://​creativecommons.​org/​licenses/​by/​4.​0/​
), which permits unrestricted use, distribution, and reproduction in any medium, provided you give appropriate credit to the original author(s) and the source, provide a link to the Creative Commons license, and indicate if changes were made. The Creative Commons Public Domain Dedication waiver (
http://​creativecommons.​org/​publicdomain/​zero/​1.​0/​
) applies to the data made available in this article, unless otherwise stated.
Publisher's Note
Springer Nature remains neutral with regard to jurisdictional claims in published maps and institutional affiliations.