01.12.2018 | Case report | Ausgabe 1/2018 Open Access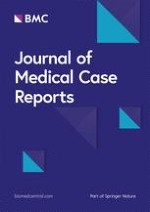 Paraneoplastic pemphigus associated with chronic lymphocytic leukemia: a case report
Zeitschrift:
Autoren:

Richard Lucas Konichi-Dias, Aline Fernanda Ramos, Mauricio Eiji de Almeida Santos Yamashita, Cristiane Botelho Miranda Cárcano
Abstract
Background
Paraneoplastic pemphigus is a rare multiorgan disease of autoimmune causes, usually triggered by neoplasias, mainly of lymphoproliferative origin, such as leukemia and lymphoma. This disorder is categorized by the presence of autoantibodies that react against proteins, such as desmoplakins, desmogleins, desmocollins, and others that exist in cellular junctions. Paraneoplastic pemphigus can manifest clinically in a variety of ways, ranging from mucositis to lesions involving the skin and pulmonary changes. The diagnosis depends on the correlation between the clinical and histopathologic evaluations. Currently, the treatment of this disease is still very difficult and ineffective. The prognosis is poor, and the mortality rate is very high.
Case presentation
We report a case of a Caucasian patient who had chronic lymphocytic leukemia and developed paraneoplastic pemphigus with severe impairment of skin and mucosa. The initial diagnostic hypothesis was Stevens-Johnson syndrome. The histopathological examination of the skin biopsy was compatible with paraneoplastic pemphigus, and the definitive diagnosis was made on the basis of clinical-pathological correlation.
Conclusions
With the presence of multiorgan lesions in patients with lymphoproliferative neoplasia, paraneoplastic pemphigus should always be considered among the possible diagnostic hypotheses, because diagnosis and early treatment may allow a better prognosis for the patient.