01.12.2014 | Case report | Ausgabe 1/2014 Open Access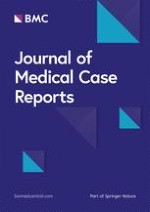 Paraneoplastic pruritus presenting with Hodgkin's lymphoma: a case report
Zeitschrift:
Autoren:

Jose Javier Arenas Villafranca, Marga Garrido Siles, María Casanova, Begoña Tortajada Goitia, Antonio Rueda Domínguez
Wichtige Hinweise
Competing interests
The authors declare that they have no competing interests.
Authors' contributions
ARD and MC were the doctors in charge of the patient. MGS and BTG were the hospital pharmacists that supervised all patient treatments. JJAV was the major contributor in writing the manuscript. All authors read and approved the final manuscript.
Abstract
Introduction
Paraneoplastic pruritus is defined as pruritus that occurs before or during the natural evolution of a hematologic disease. The reported prevalence is 30% in patients with Hodgkin's lymphoma. The severity of this pruritus has a very negative impact on patients' quality of life. Very few studies have been made to examine the efficacy of pharmacological treatments for this type of pruritus. One drug that appears to be effective in this respect is off-label aprepitant, a neurokinin 1 receptor antagonist.
Case presentation
A 20-year-old Caucasian woman presented with lateral neck nodes, sweating, and pruritus and was diagnosed with stage IIB nodular sclerosis Hodgkin's lymphoma. Throughout this period during the disease the pruritus was ever-present. Improvement was achieved with some of the chemotherapy treatments, but the symptom returned when the various treatments were withdrawn due to disease progression or poor tolerance. In the middle of the seventh year, she was admitted to our hospital with uncontrolled pruritus that resulted in severe lesions due to scratching. In response, aprepitant (off-label) 80mg/day was added to the chemotherapic treatment of the pruritus, after studying the various treatment options. She reported a score of 9 on a visual analogue scale for the pruritus, and a score of 3 on the Eastern Cooperative Oncology Group performance status scale of performance status. After two weeks of treatment with aprepitant, she reported a score of 5 on the visual analogue scale for the pruritus, and this improved to a score of 4 in a month, which allowed her to lead a better quality of life, with an Eastern Cooperative Oncology Group performance status score between 1 and 2.
Conclusions
Several cases and case series have been reported on the use of aprepitant for paraneoplastic pruritus, but none have referred to its use for Hodgkin's lymphoma. A prospective study was carried out to evaluate the efficacy of this drug in refractory pruritus secondary to Sezary syndrome, and other authors have studied the effectiveness of aprepitant against pruritus, secondary to biological therapy with erlotinib. In our case report, treatment was started with daily doses of aprepitant 80mg. Pruritus improvement appeared to be attributable exclusively to the administration of aprepitant.