01.10.2011 | Original Article | Ausgabe 5/2011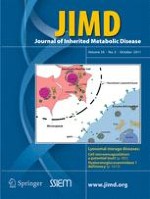 Parent-reported benefits of flupirtine in juvenile neuronal ceroid lipofuscinosis (Batten disease;
CLN3

) are not supported by quantitative data
Zeitschrift:
Autoren:

Jennifer Cialone, Erika F. Augustine, Nicole Newhouse, Heather Adams, Amy Vierhile, Frederick J. Marshall, Elisabeth A. de Blieck, Jennifer Kwon, Paul G. Rothberg, Jonathan W. Mink
Wichtige Hinweise
Communicated by: Robert Steiner
Competing interests: None declared
Abstract
Juvenile neuronal ceroid lipofuscinosis (JNCL; CLN3 disease; Batten disease) is an autosomal recessive neurodegenerative disease of childhood that typically presents at school age with vision loss followed by progressive cognitive decline, motor dysfunction, seizures, and behavior problems. No therapy has been shown to slow the progression of disease in JNCL patients, and all current treatments are symptomatic. Flupirtine has been shown in vitro to reduce apoptosis in CLN3 lymphocytes. Based on that preclinical study, several children with JNCL were given flupirtine by their parents. The purpose of this study was to determine if there was evidence of attenuated disease progression in any JNCL symptom domain. We administered a survey to parents of JNCL children to qualitatively assess flupirtine efficacy. We used the Unified Batten Disease Rating Scale (UBDRS) to determine specific aspects of disease progression and investigated three age-related factors: loss of independent ambulation, loss of intelligible speech, and loss of ability to perform independent activities of daily living. The median scores for the UBDRS physical, behavior, and capability subscales were determined in flupirtine-exposed subjects and compared to age-, sex-, and genotype-matched subjects who had never taken flupirtine. Twenty-one percent of survey responders reported administering flupirtine to their JNCL child, and 56% of these families perceived beneficial changes that they attributed to flupirtine. However, our quantitative, prospectively obtained data did not show any change in JNCL disease progression that could be attributed to flupirtine. This study highlights the need for prospective experimental therapeutic research.