01.03.2018 | Women and Heart Disease (E. Jackson, Section Editor) | Ausgabe 3/2018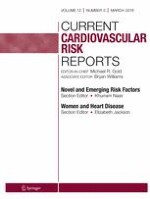 Parity, Job Strain, and Cardiovascular Risk in the Women's Health Study
Zeitschrift:
Autoren:

Eva M. Durazo, Tomás Cabeza de Baca, Natalie Slopen, Nisha I. Parikh, Julie E. Buring, Robert J. Glynn, Michelle A. Albert
Wichtige Hinweise
This article is part of the Topical Collection on
Women and Heart Disease
Abstract
Purpose of Review
Pregnancy and employment are critical life events that can affect chronic disease risk in women. Hence, we examined the relationship between parity and cardiovascular risk, and whether job stress affected this association.
Recent Findings
Cox proportional hazard models examined the association of parity with cardiovascular disease (CVD) risk [myocardial infarction (MI), coronary artery revascularization, ischemic stroke, and CVD death] in 23,905 participants in the Women's Health Study. Parity was defined at baseline as pregnancy lasting > 6 months gestation, categorized as none (referent), 1–2, 3–4, and 5+. Job strain assessed at year 5 was operationalized using the Karasek job strain model, and job insecurity was defined based on the item "My job security is good" (yes or no). The mean age of the women at baseline was 57.3 ± 5.2 years with an average follow-up for CVD of 16 years. In models adjusted for age, race/ethnicity, income, education, CVD risk factors, and age of menarche, increasing parity was associated with increased CVD risk compared to no pregnancies [hazard ratio (HR), 95% confidence interval (CI) 1.15, 0.94–1.41 (1–2 pregnancies); 1.29, 1.06–1.58 (3–4 pregnancies); 1.52, 1.20–1.93 (5+ pregnancies)]. Further adjustment for job strain did not attenuate the noted relationship (HR, 95% CI 1.15, 0.94–1.41 (1–2 pregnancies); 1.30, 1.06–1.58 (3–4 pregnancies); 1.52, 1.20–1.93 (5+ pregnancies). There was no significant interaction between job strain (
p
 = 0.68) or job insecurity (
p
 = 0.97) and parity.
Summary
Among working women, increased parity was related to heightened CVD risk, a relationship that was not attenuated by job strain or job insecurity.