01.12.2017 | Case report | Ausgabe 1/2017 Open Access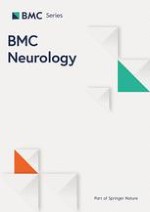 Paroxysmal freezing of gait in a patient with mesial frontal transient ischemic attacks
Zeitschrift:
Autoren:

Hee Won Hwang, Seung Ha Lee, Chul Hyoung Lyoo, Myung Sik Lee
Abbreviations
Anti-dsDNA
Anti-double stranded DNA antibodies
C-ANCA
Cytoplasmic anti-neutrophil cytoplasmic antibodies
MRI
Magnetic resonance imaging
P-ANCA
Perinuclear anti-neutrophil cytoplasmic antibodies
Background
Freezing of gait (FOG) is defined as episodic brief absence or marked reduction of forward progression of the feet despite the intention to walk [
1
]. Patients with frontal gait disorder may have FOG. However, they frequently have widespread cerebrovascular lesions and present various combinations of additional gait disturbances including start and turn hesitation, short steps, shuffling, and postural instability. Thus, in patients with frontal gait disorder, exact location of brain lesion responsible for FOG is difficult to decipher [
2
].
Rare patients have been reported who developed FOG following a focal lesion involving the dorsal midbrain tegmentum, suggestive of important role of mesencephalic locomotor region in the locomotor initiation [
3
–
5
]. However, frontal lobe, especially the supplementary motor area, plays also a prominent role in the initiation and control of human locomotion [
1
]. Here, we describe a patient who developed paroxysmal FOG of the right leg associated with left mesial frontal transient ischemic attacks (TIAs).
Case presentation
A 47-year-old man visited the emergency room due to two incidents of transient locomotor blocks. He had a past history of panic attacks. Recently, he had been under severe emotional stress. When he attempted to walk at the pedestrian crossing on the green light, his right foot was glued to the ground. He sat down and massaged his right leg with both hands. Several seconds later, he could walk normally again. Two hours later, when he attempted to run while walking, his right foot was again stuck to the ground for several seconds. During the attacks, there were no knee trembling of the frozen leg. He denied any motor weakness, sensory change, or dyskinesia of the arms or legs. On neurological examination, he had no motor, sensory, or cerebellar dysfunctions. T2 and diffusion brain magnetic resonance imaging (MRI) scans were normal (Fig.
1a
). However, magnetic resonance (MR) angiography showed atherosclerosis in the proximal left anterior cerebral artery (Fig.
1b
). Perfusion scans showed a delayed mean transit time in the left mesial frontal lobe, including the supplementary motor area and cingulate cortex (Fig.
1c
). Routine laboratory tests were all normal, including CBC, liver function tests, renal function tests, urine analysis, electrocardiography, and chest x-ray studies. There was no hyperlipidemia. Screening tests for autoimmune disease (e.g. ANA, Ani-dsDNA antibodies, P-ANCA, C-ANCA, Anti-Cardiolipin antibodies Ig M andIg G) were all negative. Transthoracic echocardiography study showed no abnormalities. Interictal electroencephalography (EEG) studies revealed no abnormalities. During four months of follow up period, he had been treated with low dose aspirin, but he developed two more attacks when he attempted walking.
×
Conclusion and discussion
Acknowledgements
Not applicable.
Funding
We received no funding support.
Availability of data and materials
All data are presented in the manuscript. There are no additional data.
Ethics approval and consent to participate
Not applicable.
Consent for publication
Written informed consent for participation and publication was obtained.
Competing interests
The authors declare that they have no competing interests.
Open Access
This article is distributed under the terms of the Creative Commons Attribution 4.0 International License (
http://​creativecommons.​org/​licenses/​by/​4.​0/​
), which permits unrestricted use, distribution, and reproduction in any medium, provided you give appropriate credit to the original author(s) and the source, provide a link to the Creative Commons license, and indicate if changes were made. The Creative Commons Public Domain Dedication waiver (
http://​creativecommons.​org/​publicdomain/​zero/​1.​0/​
) applies to the data made available in this article, unless otherwise stated.