02.03.2019 | Original Article | Ausgabe 4/2019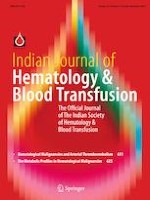 Parvovirus B19 Infection in Human Bone Marrow Mesenchymal Stem Cells Affects Gene Expression of IL-6 and TNF-α and also Affects Hematopoietic Stem Cells Differentiation
Zeitschrift:
Autoren:

Mahin Behzadi Fard, Saeid Kaviani, Amir Atashi
Wichtige Hinweise
Publisher's Note
Springer Nature remains neutral with regard to jurisdictional claims in published maps and institutional affiliations.
Abstract
Parvovirus B19 (B19V) has been known to induce transient erythroid aplasia, cytopenia and aplastic anemia. This virus persists in bone marrow mesenchymal stem cells (HBMSCs) of some immunocompetent individuals several years after primary infection. In B19V infected erythroid progenitor cells, the virus induces transactivation of Interleukin-6 (IL-6) and tumor necrosis factor-α (TNF-α) gene expression. Due the critical role of HBMSCs in bone marrow niche and inhibitory effect of inflammatory cytokines on hematopoiesis, the aim of this study was to investigate the effect of B19V on IL-6 and TNF-α gene expression intransfected cells. In addition we assessed the clonogenicity potential of cord blood CD34+ stem cells that were co-cultured with infected cells. After 24 h of transfection, quantitative mRNA expression of IL-6 and TNF-α was evaluated and human cord blood CD34+ HSC were cultured with the transfected cells. At the end of 7 days of culture, HSCs colony forming units (CFUs) assay was performed. Our findings demonstrated statistically significant (18.1 and 21.9 fold) increase of TNF-α and IL-6 gene expression respectively and decrease in burst forming unit-erythrocyte (BFU-E) and colony forming unit-erythrocyte (CFU-E) enumeration(
p
 < 0.05). We concluded that, inducing inflammatory cytokines gene expression in B19V-infected HBMSCs might influence on bone marrow microenvironment and hematopoiesis.