01.12.2021 | Review | Ausgabe 1/2021 Open Access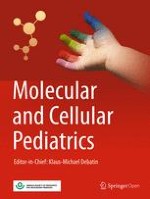 Patho-mechanisms of the origins of bronchopulmonary dysplasia
Zeitschrift:
Autoren:

Mitali Sahni, Vineet Bhandari
Wichtige Hinweise
Publisher's Note
Springer Nature remains neutral with regard to jurisdictional claims in published maps and institutional affiliations.
Abbreviations
ARNT
Aryl hydrocarbon receptor nuclear translocator
Bax
Bcl-2 associated X (protein)
BPD
Bronchopulmonary dysplasia
CTGF
Connective tissue growth factor
ELGAN
Extremely low gestational age newborns
HALI
Hyperoxia-induced acute lung injury
IMV
Intermittent mandatory ventilation
IUGR
Intrauterine growth restriction
MCP-1
Monocyte chemotactic protein-1
MVU
Maternal vascular underperfusion
NADH
Nicotinamide adenine dinucleotide + hydrogen
NICU
Neonatal intensive care unit
PAH
Pulmonary arterial hypertension
PDGFR
Platelet-derived growth factor receptor
scRNA
Single cell ribonucleic acid
SGA
Small for gestational age
SNP
Single nucleotide polymorphism
TGF-β
Transforming growth factor-beta
TNF-α
Tumor necrosis factor-alpha
VEGF
Vascular endothelial growth factor
VEGFR1
Vascular endothelial growth factor receptor 1; also known as "soluble FMS-like tyrosine-kinase1" or sFLT1
Introduction
Bronchopulmonary dysplasia (BPD) was first described 54 years ago by Northway et al. [
1
], but it still continues to be one of the most serious causes of mortality and morbidity in the neonatal intensive care unit (NICU). Despite significant advancements in neonatology over the last couple of decades including more gentle methods of invasive mechanical ventilation (IMV), increasing use of non-invasive ventilation, surfactant replacement therapy etc., the incidence of BPD remains quite high [
2
]. This is partly attributable to the increased survival of extremely low birth weight infants as BPD is more commonly seen in the infants born at < 28 weeks gestational age (GA) [
3
]. Before the advent of surfactant and gentler ventilation modes, "old BPD" occurred due to oxygen injury and mechanical ventilation and was characterized by abnormal vascularization, with obliteration of vessels and pulmonary fibrosis. On the other hand, the "new BPD" has minimal alveolar septal fibrosis, a lesser degree of airway damage as compared to its old counterpart, and is characterized by alveolar simplification and dysmorphic microvasculature [
4
]. Other findings reported include bronchial and bronchiolar smooth muscle hyperplasia, as well as altered number of neuroendocrine cells [
5
]. Although we have made major strides in understanding the patho-mechanics of the origin of BPD, we have limited therapies available to manage established BPD [
6
,
7
]. In addition to the well-known antenatal and perinatal factors that affect BPD, such as genetic susceptibility, immature lung and surfactant homeostasis, intrauterine and perinatal infections [
7
], recent literature has implicated various mediators of impaired alveolarization and dysregulated vascularization in the perinatal origins of BPD [
8
‐
10
]. The postnatal therapies used in the NICU to manage respiratory failure with IMV and oxygen use further lead to inflammation and maladapted lung development [
6
]. This review will focus on studies of lung growth restriction caused by placental insufficiency, the role of placental infection as well as selected mediators of impaired alveolarization and dysregulated vascularization, and their impact on the development of BPD. This narrative review was written after a careful and thorough literature review using PubMed, and focused on published studies in the last 10 years.
Pathogenesis of BPD
BPD is a complex and multifactorial disease of prematurity, where a multitude of intra-uterine and extra-uterine factors are implicated in its pathogenesis. The strongest predictor of BPD is infant's GA at birth [
11
]. The most commonly accepted mechanism of BPD development is ascribed to lung injury and inflammation in immature lungs occurring after post-natal exposure to hyperoxia and IMV, in the presence of placental insufficiency and other predisposing antenatal factors [
12
]. Recent advances in BPD show that it may occur even after minimal exposure to these post-natal therapies [
13
]. It is likely that placental insufficiency as well as other placental factors that initiate intrauterine inflammatory processes is interrelated with post-natal exposures in the pathogenesis of BPD [
8
,
14
].
Role of antenatal placental factors in the development of BPD
Inflammation
Increased levels of pro-inflammatory cytokines in amniotic fluid and fetal cord blood are known to be independent risk factors for BPD [
13
]. A meta-analysis of 59 studies, involving 15,000 infants confirmed an association between histologic chorioamnionitis (CA) and development of BPD [
15
]. The Alabama Preterm Birth Study, found no association between BPD and CA; however, in the same study, umbilical cord blood culture positive for
Ureaplasma
spp. was associated with an increased risk for BPD [
16
]. A nested case-control study found a protective effect of CA on BPD in the absence of postnatal sepsis and prolonged ventilation, but demonstrated an increased risk for BPD in infants exposed to histologic CA who were exposed to IMV and postnatal sepsis [
17
]. Lastly, a cohort study involving preterm infants < 32 weeks gestation, concluded that in infants exposed to histologic CA there was a decreased response to surfactant therapy and prolonged need for ventilation, which led to increased risk for BPD [
18
]. Hence, we can conclude that CA increases the risk for premature preterm birth, which in turn is one of the most important risk factor for development of BPD. In addition, CA likely induces a chronic inflammatory process that predisposes the lung to post-natal injuries [
13
]. In preterm infants who later developed BPD, the cord blood levels of inflammatory markers, interleukin-6 (IL-6), and monocyte chemotactic protein-1 (MCP-1) were shown to be significantly elevated [
19
,
20
]. Table
1
lists selected inflammatory mediators in the pathogenesis of BPD and the trends in their expression levels in BPD.
Table 1
Selected molecular mediators involved in the pathogenesis of bronchopulmonary dysplasia (BPD). Adapted from [
21
]
Molecular mediator

Levels associated with increased risk of BPD

Higher

 

MCP-1

: monocyte chemotactic protein-1

Higher

 

GCSF

: granulocyte colony stimulating factor

Lower

 

IL-1β:

interleukin 1 beta

Higher

Higher

 

TNF-α

: tumor necrosis factor alpha

Higher

Higher

 

TGF β

: transforming growth factor β [

22

]

Higher

 

CTGF

: connective tissue growth factor [

23

]

Higher

 

PDGF

: platelet-derived growth factor BB [

24

]

Higher

 

KGF

: keratinocyte growth factor [

25

]

Lower

 

HGF:

hepatocyte growth factor [

26

]

Lower

 

FGF:

fibroblast growth factor [

27

]

Lower

 

VEGF

: Vascular endothelial growth factor [

28

]

Variable

 

Ang 2

: angiopoetin 2 [

29

]

Higher
Role of chronic placental insufficiency
Several epidemiologic studies have demonstrated associations between intrauterine growth restriction (IUGR), preeclampsia (PE), hypertensive disorders of pregnancy, maternal smoking, and other antenatal factors with susceptibility to BPD [
30
]. It is postulated that if there is sustained disruption of lung development initially, it can lead to abnormal lung structure, even in the absence of additional postnatal stressors, e.g., exposure to hyperoxia and IMV. Alternatively, interactions between antenatal stresses may alter susceptibility to postnatal stressors, thereby increasing the risk of developing BPD [
31
]. An observational study reported a twofold increase in mortality (both early and late) and increased risk for BPD in small for gestational age (SGA) infants born at or below 32 weeks GA [
32
]. Another study demonstrated that preterm infants born with IUGR, remain at high risk for late respiratory morbidities and lung function at school age [
33
]. The ELGAN investigators evaluated prenatal predictors of BPD in neonates born before 28 weeks GA and found fetal growth restriction to be an independent risk factor for BPD, after controlling for other risk factors. In this study, markers of placental inflammation and infection were not associated with increased risk of BPD [
34
]. In a separate cohort of neonates born at GA < 29 weeks, Keller et al. showed that IUGR was associated with increased odds of persistent respiratory morbidity at 1-year corrected age [
35
].
These studies implicate the critical role of altered placental structure and function in the pathobiology of BPD. Placental insufficiency related to IUGR and PE is associated with fetal growth restriction. Experimental studies have demonstrated impaired angiogenic and growth properties of endothelial cells derived from human IUGR placentas, which may be related to decreased aryl hydrocarbon receptor nuclear translocator (ARNT) expression [
36
]. Further work on cord blood biomarkers showed that decreased vascular endothelial growth factor (VEGF) and soluble VEGF receptor 1 (sFlt-1) levels are strongly associated with IUGR and are predictive of BPD in preterm infants [
37
]. Mestan et al. demonstrated that examination of placental tissue for vascular lesions that reflect maternal vascular underperfusion (MVU) after preterm birth provides a unique approach to predict the subsequent risk for BPD [
38
]. They also reported that cord blood biomarkers, like granulocyte colony stimulating factor, placental growth factor, and VEGF-A are decreased in association with placental findings of MVU and are associated with subsequent diagnoses of BPD [
39
]. The developing fetal lung may share certain structural and functional aspects with the placenta. These anatomical and pathophysiological similarities between placenta and lung may reflect changes in the developing premature lung, and may present an important insight in understanding the neonatal lung biology [
31
]. Various cord blood biomarkers studied in preterm infants, such as decreased VEGF, that is suggestive of impaired angiogenesis, is also strongly linked with findings of placental vascular lesions on histology and is further associated with a higher risk for BPD with pulmonary hypertension (PH) [
37
,
39
,
40
]. Table
1
lists selected molecular mediators in the pathogenesis of BPD and the trends in their expression levels in BPD.
Mediators of impaired alveolarization and dysregulated vascularization in BPD
Novel techniques and resources influencing our understanding of the pathogenesis of BPD
The lung is a complex structure, consisting of a wide variety of cells and processes that play a vital role in lung maturation and adaptation. However, most genomic and proteomic studies use bulk measurements from whole lung tissue to evaluate perinatal lung development, thus limiting insight into the interactions and purpose of individual cells [
109
]. Single cell RNA-seq (scRNA-seq) allows transcriptomic mapping of individual cells to understand cellular heterogeneity and responses in complex biological systems [
110
]. Using scRNA profiling, we can identify varied pulmonary cell lines during perinatal development, and provide information on genes, processes, and cell–cell interactions that regulate pulmonary structure and function at birth [
111
]. In a recent study, Guo et al. utilized scRNA-seq on post-natal day 1 mouse lung with developmental RNA profiles obtained from whole lung tissue, to understand the complexity of cellular adaptation of the lung to air breathing at the time of birth. To facilitate the inquiry and re-utilization of their data, the authors also developed a web application, named "single cells of Lung At Birth" (scLAB), that allows query by gene of interest, cell type, or dynamic gene expression patterns during mouse lung development and is freely accessible [
111
].
Another great resource for investigators is LungMAP (
https://​www.​lungmap.​net/​
) that includes a variety of a searchable databases that address transcriptomics, proteomics, and lipidomics, as well as includes an image database [
112
]. As part of the LungMAP consortium, a facility has now been developed that also provides tissue and cells from developing human lungs to investigators, through the Biorepository for Investigation of Neonatal Diseases of the Lung [
10
]. In a recent study, researchers utilized the interactive Dynamic Regulatory Events Miner (iDREM) method to reconstruct a dynamic model, that identifies the grouping of genes during the development of lung into transcription factors, miRs, and methylation events that regulate them. They also developed an interactive tool that allows users to query, and obtain information on specific genes, miRs, regulators, etc., and enables them to integrate other types of data, like single-cell and sorted-cell RNA-Seq data with the model. This interactive model revealed both genes and functions involved in alveolar development and identified new roles for several transcription factors and miRs in regulating various stages of this process [
113
].
Conclusions
The pathogenesis of BPD involves a multifactorial pathway where lung injury occurs over time with hyperoxia and IMV in the setting of preexisting prenatal determinants, leading to dysregulated immune responses and aberrant tissue repair in preterm infants. This leads to impaired alveolarization and vascular development. Continued research has provided insight into various pathways involved in pathogenesis of BPD. Recent literature has focused on the role of oxidative stress-related genes, growth factor signaling, miRs, ECM modeling, and modulation of inflammation. A more robust understanding of the mechanistic contribution of miRs in regulating aberrant alveolarization and vascular development in BPD has provided means for a tantalizing new therapeutic pathway in BPD research. We hope future research in investigating the molecular mechanisms in BPD will ultimately help develop targeted therapeutic strategies for this devastating disease.
Acknowledgements
Not applicable.
Declarations
Ethics approval and consent to participate
Not applicable.
Consent for publication
Not applicable.
Competing interests
The authors declare that they have no competing interests.
Open Access
This article is licensed under a Creative Commons Attribution 4.0 International License, which permits use, sharing, adaptation, distribution and reproduction in any medium or format, as long as you give appropriate credit to the original author(s) and the source, provide a link to the Creative Commons licence, and indicate if changes were made. The images or other third party material in this article are included in the article's Creative Commons licence, unless indicated otherwise in a credit line to the material. If material is not included in the article's Creative Commons licence and your intended use is not permitted by statutory regulation or exceeds the permitted use, you will need to obtain permission directly from the copyright holder. To view a copy of this licence, visit
http://​creativecommons.​org/​licenses/​by/​4.​0/​
.
Publisher's Note
Springer Nature remains neutral with regard to jurisdictional claims in published maps and institutional affiliations.