01.12.2018 | Research | Ausgabe 1/2018 Open Access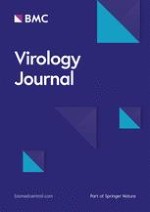 Pathogenicity of rice yellow mottle virus and screening of rice accessions from the Central African Republic
Zeitschrift:
Autoren:

Regis Dimitri Sokpe Longue, Valentin Stanislas Edgar Traore, Innocent Zinga, Maxwell Darko Asante, Zakaria Bouda, James Bouma Neya, Nicolas Barro, Oumar Traore
Wichtige Hinweise
Electronic supplementary material
Abstract
Background
Rice yellow mottle virus (RYMV) of the genus
Sobemovirus
is the most important viral pathogen of rice causing more damage to rice crop in Sub Saharan Africa. The aim of this study was to conduct pathogenic characterization of RYMV isolates from the Central African Republic (CAR) and to screen commonly cultivated rice accessions in the country for resistance/tolerance to the virus.
Methods
The pathogenicity of RYMV isolates was studied by mechanical inoculation with comparison to differential rice lines highly resistant to RYMV available at the Institute of Environment and Agricultural Research (INERA) in Burkina Faso.
To screen commonly cultivated rice accessions in CAR, characterized RYMV isolates from the country were used as inoculum sources. Resistant breaking (RB) isolates were used to prepare RB-inoculum, whereas non-resistant breaking isolates (nRB) were used for nRB-inoculum.
Results
Overall 102 isolates used in this study, 29.4% were able to overcome the high resistance genes in the rice cultivars Gigante and Tog7291. All isolates were distributed within three distinct pathogenic profiles. The first profile constituted of 6.9% of the isolates was able to break down the resistance in rice cultivar Gigante only. The second pathogenic profile made of 19.6% of isolates was able to infect Tog7291 only. The third profile, 2.9% of isolates overcame simultaneously resistance genes in both rice cultivars Gigante and Tog7291. Out of isolates able to break down the resistance gene in cultivar Gigante, a single isolate was found to be non-infectious to the susceptible control IR64.
Data from screening showed that all accessions were susceptible to RYMV, although IRAT213 was found to be partially resistant to both nRB-inoculum and RB-inoculum.
Conclusion
The present study can be considered as the first in the Central African Republic, it gives a caution on the high risk of RYMV damage to rice production in the country. Beside, skills of pathogenic profiles of RYMV isolates will contribute to better disease management.