19.01.2017 | Original Article | Ausgabe 3/2017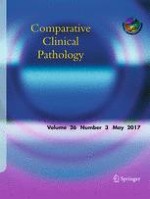 Pathological and biochemical studies on enterotoxemia in sheep
Zeitschrift:
Autoren:

Khaled M. A. Hassanein, Manal M. Sayed, Azhar Mohammed Hassan
Abstract
Enterotoxemic diseases are the most important economic diseases caused by
Clostridium perfringens
in sheep. The present study was conducted to describe the clinical, biochemical, and the histopathological findings in sheep with enterotoxemia. This study was performed on 26 sheep, 13 out of them with suspected enterotoxemia (6 dead and 7 diseased) and 13 from clinically healthy sheep. Clinically, diseased sheep exhibited incoordination, head tremors, recumbency, and diarrhea. Hematological analyses revealed severe anemia and increased leukocytes especially neutrophils. Biochemical analyses indicated significant increases in liver enzymes, total bilirubin, total protein, and creatinine in diseased sheep. Bacteriological examination of the samples from the intestine, liver, kidney, lung, and heart revealed the presence of
C. perfringens
in 6 samples (dead sheep) out of 13 samples (46.15%), while it was isolated in one sample (7.69%) from clinically healthy sheep. Histopathological examination of the intestine revealed congestion and necrosis in the epithelial lining with the presence of several clostridial bacilli. The liver specimens revealed necrosis of the hepatocytes with the presence of several clostridial bacilli in the area of necrosis. The kidneys showed glomerular necrosis and coagulative necrosis of the renal tubular epithelium. In conclusion, enterotoxemia as a fatal enteric disease is associated with some characteristic clinical, biochemical, bacteriological, and histopathological alterations. These alterations can be a useful aid for rapid diagnosis of enterotoxemia in sheep farms.