01.12.2019 | Research article | Ausgabe 1/2019 Open Access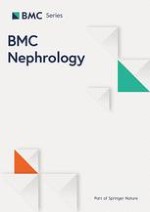 Pathological severity determines the renal recovery for anti-myeloperoxidase antibody-associated vasculitis requiring dialysis at disease onset: a retrospective study
Zeitschrift:
Autoren:

Peng-cheng Xu, Tong Chen, Si-jing Wu, Xia Yang, Shan Gao, Shui-yi Hu, Li Wei, Tie-kun Yan
Wichtige Hinweise
Publisher's Note
Springer Nature remains neutral with regard to jurisdictional claims in published maps and institutional affiliations.
Abstract
Background
Many patients with anti-neutrophil cytoplasmic antibody (ANCA)-associated vasculitis (AAV) need dialysis at disease onset due to severe kidney injury. Determining whether they can become dialysis independent is an important clinical assessment.
Methods
Forty kidney biopsy-proved myeloperoxidase (MPO)-ANCA associated AAV patients who required dialysis at disease onset were enrolled. Relationships between laboratory and pathological characteristics and prognoses were analyzed.
Results
Twenty-five patients obtained dialysis independence within 3 months, while the other 15 patients remained dialysis dependent. No sclerotic class was identified among the 40 patients. Only two biopsies exhibited focal class diagnoses and both these patients recovered their renal function. The renal recovery rate of the 20 patients with mixed class was significantly lower than that of the 18 patients with crescentic class (40.0% vs. 83.3%,
p
 = 0.006). Receiver operating characteristics (ROC) curves showed fibrous crescent+global glomerulosclerosis greater than 32.6% was a strong predictor of dialysis dependence with a sensitivity of 93.3% and specificity of 88.0%. When the percentage of fibrous crescent+global glomerulosclerosis exceeded 47.9%, dialysis independence was not possible. Correlation analysis indicated that platelet counts were negatively correlated with the percentage of fibrous crescent+global glomerulosclerosis (R = -0.448,
p
 = 0.004). Most patients with increased platelets (84.62%) obtained renal recovery. Compared with methylprednisolone pulse therapy, plasma exchange accelerated renal recovery (29.4 ± 15.6 vs. 41.4 ± 11.7 days,
p
 = 0.039).
Conclusions
For MPO-ANCA AAV who required dialysis at disease onset, crescentic and mixed classes accounted for the majority of patients in our cohort. The renal outcome of mixed class patients was worse than that of crescentic class. A high proportion of fibrous crescent+global glomerulosclerosis is a predictor of dialysis dependence. Increased platelet count is associated with active and reversible renal lesions.