28.08.2018 | Laryngology | Ausgabe 11/2018 Open Access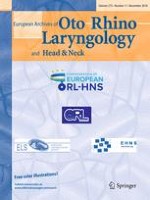 Pathological sulcus vocalis: treatment approaches and voice outcomes in 36 patients
Zeitschrift:
Autoren:

Beata Miaśkiewicz, Agata Szkiełkowska, Elżbieta Gos, Aleksandra Panasiewicz, Elżbieta Włodarczyk, Piotr H. Skarżyński
Abstract
Purpose
This is a retrospective study to evaluate the results of surgical treatment of patients with pathological sulcus vocalis.
Methods
Thirty-six patients with pathological sulcus underwent surgery and in 33 cases were performed additional injection laryngoplasty. The pre- and postoperative evaluation of patients included the GRBAS scale, stroboscopic, and objective acoustic voice assessment. The Voice Handicap Index questionnaire (VHI-30) was also used and the scores were obtained from 33 patients.
Results
The stroboscopic evaluation showed significant improvement of amplitude, mucosal wave, and glottal closure after treatment (
p
 < 0.001). The VHI-30 scores decreased considerably indicating improvement due to the treatment for all aspects measured by VHI (
p
 < 0.05, or
p
 < 0.01). In all domains of GRBAS scale, the differences between preoperative and postoperative assessment were statistically significant (
p
 < 0.001). We observed a significant change in Shim and APQ parameters (
p
 < 0.05). Improvement was also observed in the sAPQ parameter, but it was not statistically significant (
p
 = 0.051). For the remaining acoustic parameters, no changes were observed.
Conclusions
The surgical procedure with supplementary injection laryngoplasty of the vocal folds is a good treatment option for pathological sulcus vocalis. The post-treatment self-assessment indicates the significant improvement in VHI, just as perceptual–acoustic evaluation of voice does. Patients with pathological sulcus frequently present with amplitude disturbances, what explains their significant improvement after treatment.