01.04.2015 | Pathophysiology: Neuroendocrine, Vascular, and Metabolic Factors (SD Katz, Section Editor) | Ausgabe 2/2015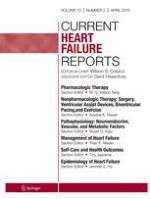 Pathophysiology of Sepsis-Related Cardiac Dysfunction: Driven by Inflammation, Energy Mismanagement, or Both?
Zeitschrift:
Autoren:

Konstantinos Drosatos, Anastasios Lymperopoulos, Peter Johannes Kennel, Nina Pollak, P. Christian Schulze, Ira J. Goldberg
Wichtige Hinweise
Anastasios Lymperopoulos and Peter Johannes Kennel contributed equally to this review.
This article is part of the Topical Collection on
Pathophysiology: Neuroendocrine, Vascular, and Metabolic Factors
Abstract
Sepsis is a systemic inflammatory response that follows bacterial infection. Cardiac dysfunction is an important consequence of sepsis that affects mortality and has been attributed to either elevated inflammation or suppression of both fatty acid and glucose oxidation and eventual ATP depletion. Moreover, cardiac adrenergic signaling is compromised in septic patients and this aggravates further heart function. While anti-inflammatory therapies are important for the treatment of the disease, administration of anti-inflammatory drugs did not improve survival in septic patients. This review article summarizes findings on inflammatory and other mechanisms that are triggered in sepsis and affect cardiac function and mortality. Particularly, it focuses on the effects of the disease in metabolic pathways, as well as in adrenergic signaling and the potential interplay of the latter with inflammation. It is suggested that therapeutic approaches should include combination of anti-inflammatory treatments, stimulation of energy production, and restoration of adrenergic signaling in the heart.