01.12.2018 | Research | Ausgabe 1/2018 Open Access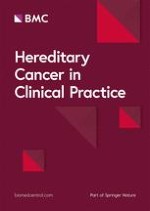 Patient and provider perspectives on adherence to and care coordination of lynch syndrome surveillance recommendations: findings from qualitative interviews
Zeitschrift:
Autoren:

Jennifer L. Schneider, Katrina A. B. Goddard, Kristin R. Muessig, James V. Davis, Alan F. Rope, Jessica E. Hunter, Susan K. Peterson, Louise S. Acheson, Sapna Syngal, Georgia L. Wiesner, Jacob A. Reiss
Abstract
Background
Patients with a genetic variant associated with Lynch syndrome (LS) are recommended to undergo frequent and repeated cancer surveillance activities to minimize cancer-related morbidity and mortality. Little is known about how patients and primary care providers (PCPs) track and manage these recommendations. We conducted a small exploratory study of patient and PCP experiences with recommended LS surveillance activities and communication with family members in an integrated health care system.
Methods
We used in-depth interviews with patients and providers to understand how surveillance is coordinated and monitored following confirmation of LS. We recruited patients with a range of ages/gender, and providers with at least at least one patient with a molecular diagnosis of LS. All interviews were recorded, transcribed, and content analyzed by a trained qualitative methodologist.
Results
Twenty-two interviews were completed with 12 patients and 10 providers. Most patients (10) had detailed knowledge of surveillance recommendations, but were less sure of time intervals. While all patients reported receiving initial education about their surveillance recommendations from a genetic counselor, seven did not follow-up with a genetic counselor in subsequent years. A third of patients described taking sole responsibility for managing their LS surveillance care. Lack of routine communication from the health system (e.g., prompts for surveillance activities), and provider engagement were surveillance barriers. PCPs were generally aware of LS, but had limited familiarity with surveillance recommendations. Most PCPs (7) viewed LS as rare and relied on patient and specialist expertise and support. Providers typically had 1 patient with LS in a panel of 1800 patients overall. Providers felt strongly that management of LS should be coordinated by a dedicated team of specialists. Most patients (92%) had at least one family member that sought LS testing, and common barriers for family members included lack of insurance, affordability, and fear of result.
Conclusion
The maximal benefits of screening for confirmation of LS will only be realized with adherence to recommended preventive care. Important factors to ensure patients receive recommended LS care include a comprehensive and coordinated monitoring program that includes reminder prompts, and increased PCP education of LS and associated surveillance recommendations.