01.12.2018 | Research article | Ausgabe 1/2018 Open Access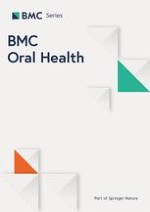 Patient awareness/knowledge towards oral cancer: a cross-sectional survey
Zeitschrift:
Autoren:

Neel Shimpi, Monica Jethwani, Aditi Bharatkumar, Po-Huang Chyou, Ingrid Glurich, Amit Acharya
Wichtige Hinweise
Electronic supplementary material
Abstract
Background
Oral cancer (OC) is associated with multiple risk factors and high mortality rates and substantially contributes to the global cancer burden despite being highly preventable.
This cross-sectional study sought to assess current knowledge, awareness, and behaviors of patients in rural communities surrounding OC risk.
Methods
An anonymous 21-question survey was distributed to patients in waiting rooms of a large integrated medical-dental health system serving north-central Wisconsin.
Survey results were summarized via descriptive statistics. Odds ratios surrounding health literacy on OC risk factors were obtained using unconditional univariate logistic regression analysis.
Results
Of 504 dental and 306 medical patients completing the survey, 62.2% were female, Caucasian/White (92%) with 41% having a ≤ high school diploma/equivalent. Current smoker/smokeless tobacco use was reported by 34%, while 39% reported former tobacco exposure. Alcohol use was reported by 54% of respondents at the following frequencies: < once/week, (35%); 1–2 times/week, (16%); 3–4 times/week, (6%); 5–6 times/week, (2%); and daily, (23%). Knowledge about tobacco and alcohol use and increased OC risk was reported by 94 and 40%, respectively. About 50% reported knowledgeability regarding cancer-associated symptomology. Tobacco cessation was reported by 20% of responders. Receipt of education on OC from healthcare providers and human papilloma virus links to OC causation was reported by 38 and 21%, respectively.
Conclusion
Patients who smoked > 20+ cigarettes per day were more knowledgeable about tobacco and OC risk compared to non-smokers and those who smoked ≤ 19 cigarettes/day (
p
 = 0.0647). Patients who were alcohol consumers exhibited higher knowledgeability surrounding increased OC risk with alcohol and tobacco exposures compared to alcohol abstainers (
p
 = 0.06). We concluded that patients recognized links between tobacco and OC risk but demonstrated lower knowledge of other causal factors. Strategic patient education by providers could increase awareness of OC risk.