03.05.2018 | Ausgabe 3/2018 Open Access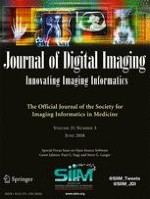 Patient-Centered Radiology with FHIR: an Introduction to the Use of FHIR to Offer Radiology a Clinically Integrated Platform
Zeitschrift:
Autoren:

Peter I. Kamel, Paul G. Nagy
Introduction
Review
Discussion
The 2016 SIIM Hackathon Implementation
The annual SIIM Hackathon challenges users to develop software integrations using standards like FHIR to innovate new solutions to healthcare problems. Samples from the 2016 SIIM Hackathon are included in Fig.
3
a–c and illustrate what a fully integrated system with FHIR and DICOMWeb could look like in the radiology workplace. Instead of having a worklist driven by imaging, at the forefront is the patient with the relevant clinical information logically organized (Fig.
3
a, b). With API tools like DICOMWeb, medical images can be directly embedded into the clinical workflow (Fig.
3
b) [
14
]. API access to the data in the FHIR server also offers real-time quality metrics
(
Fig.
3c
)
. All these features can be streamlined into a single platform which can unify the radiology workflow into a cohesive user experience driven by a patient-first clinical focus.
×
Summary
FHIR is an exciting and promising new standard that is expected to drive great technologic innovation. As access to data is made easier, the development of new software tools and applications that will solve a variety of clinical challenges and streamline workflow will flourish. It has been shown that by eliminating barriers by making health data accessible, application development, innovation, and technologic growth is the natural result [
15
,
16
]. This is particularly true with a standard like FHIR that is developer-friendly and up-to-date with current technology standards. In the field of radiology, FHIR can serve to integrate information previously separated across different software platforms and offer a more clinically relevant and patient-centered workflow.
Acknowledgements
This work would not have been possible without the guidance and tools provided by the SIIM Hackathon staff and contributors. We encourage all interested readers to participate in SIIM's annual Hackathon to learn more and gain hands-on experience with FHIR.
Open Access
This article is distributed under the terms of the Creative Commons Attribution 4.0 International License (http://creativecommons.org/licenses/by/4.0/), which permits unrestricted use, distribution, and reproduction in any medium, provided you give appropriate credit to the original author(s) and the source, provide a link to the Creative Commons license, and indicate if changes were made.