01.12.2018 | Research article | Ausgabe 1/2018 Open Access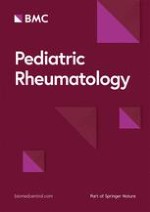 Patient characteristics associated with response to NSAID monotherapy in children with systemic juvenile idiopathic arthritis
Zeitschrift:
Autoren:

Anjali Sura, Christopher Failing, Julie Sturza, Jasmine Stannard, Meredith Riebschleger
Abstract
Background
Systemic juvenile idiopathic arthritis (sJIA) is an auto-inflammatory disease characterized by fever, arthritis, and ≥1 of rash, generalized lymphadenopathy, hepato/splenomegaly, and serositis. Non-steroidal anti-inflammatory drugs (NSAIDs) are among the initial treatments of sJIA, but there is currently no evidence indicating which children should undergo a trial of NSAID monotherapy and which should not. Our objective is to identify presentation characteristics which are associated with response and lack of response to a trial of NSAID monotherapy.
Methods
This is a retrospective single-center cohort study of children diagnosed with sJIA from 2000 to 2014. Patient demographics and disease characteristics were investigated to identify predictors of response to NSAID monotherapy.
Results
Eighty-seven children were newly diagnosed with sJIA 2000-2014. Thirteen of the 51 children who received NSAID monotherapy achieved clinically inactive disease (CID) without other medications. Age at presentation (≤8 years old), initial joint count (≤5), and C-reactive protein (CRP) (≤13 mg/dL) at diagnosis were associated with achievement of CID on NSAIDs alone. Physicians were less likely to trial NSAID monotherapy if the patient had either serositis or macrophage activation syndrome (MAS) at diagnosis. Ultimate achievement of CID and time to CID were not significantly affected by whether the patient received a trial of NSAID monotherapy.
Conclusions
While a subset of children with sJIA can achieve CID with NSAID monotherapy, we recommend
against
a trial in patients who are >8 years old, with >5 joints involved, or with CRP > 13 mg/dL. Patients who undergo a trial of NSAID monotherapy should follow up within 2-4 weeks to evaluate for possible need for drug escalation. Clinical trials are necessary to confirm these findings.