01.12.2014 | Research article | Ausgabe 1/2014 Open Access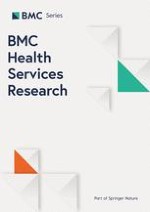 Patient engagement in research: a systematic review
Zeitschrift:
Autoren:

Juan Pablo Domecq, Gabriela Prutsky, Tarig Elraiyah, Zhen Wang, Mohammed Nabhan, Nathan Shippee, Juan Pablo Brito, Kasey Boehmer, Rim Hasan, Belal Firwana, Patricia Erwin, David Eton, Jeff Sloan, Victor Montori, Noor Asi, Abd Moain Abu Dabrh, Mohammad Hassan Murad
Wichtige Hinweise
Electronic supplementary material
The online version of this article (doi:
10.​1186/​1472-6963-14-89
) contains supplementary material, which is available to authorized users.
Competing interests
The authors declare that they have no competing interests.
Authors' contributions
All listed authors significantly contributed to this project. Study protocol was developed by MHM, VMM, JPD and PJE. JPD, GP, TE, ZW, NA, AA, MN, JB, KB, RH and BF carried out study selection and data extraction. NS, DE and JS provided the content expertise for study design and participated in writing the discussion section of the manuscript. PJE is the reference librarian who conducted the literature search. VMM and MHM provided the methodological expertise and supervised the work. All authors read and approved the final manuscript.
Background
The role of patient in research ranges from a passive one (patient is a data point) to an active one (patient is a researcher). The active participation in research (or patient engagement in research) can potentially lead to improvement in the credibility of results (higher rates of enrollment and retention) and in their direct applicability to patients (by asking pertinent questions about patient-important outcomes). Also, there is an overarching ethical mandate for patient participation in research as a manifestation of the "democratization" of the research process [
1
–
3
]. Patient engagement in the planning and execution of research could also improve its translation into clinical practice [
4
]. In all, there is growing consensus about the crucial role of patient involvement in research, which may improve the value of healthcare research.
In the United Kingdom, involvement of stakeholders in social and health care policy has been well recognized since 1996. The British National Institute of Health recognized that individual and community stakeholders determine important aspects of health care services and research, and the project INVOLVE was established to achieve this engagement [
5
,
6
]. In the United States, the Patient Centered Outcomes Research Institute (PCORI) was established in 2010 and placed great importance on the engagement of patients and other stakeholders in the research process [
7
].
Previous systematic reviews have described various aspects of the engagement process [
8
,
9
]. However, it remains unclear who to engage or when, or how to perform this task [
8
–
10
]. Therefore, PCORI commissioned a systematic review that aims at synthesizing the existing evidence about patient engagement in research with the goal of helping researchers in designing and conducting meaningful patient engagement in healthcare research. In this systematic review we aimed to answer 4 key questions: what are the best ways to identify patient representatives? How to engage them in designing and conducting research? What are the observed benefits of patient engagement? What are the harms and barriers of patient engagement?
Methods
This systematic review is conducted based on a priori established protocol (Additional file
1
) and is reported according to the PRISMA statement [
11
]. The PRISMA checklist is available in Additional file
2
.
Eligibility criteria
We included all original studies of any design, size, or patient population published in the English language in which patients or their surrogates provided feedback, had input, or took part in the design, conduct and dissemination of research. Systematic reviews were also included to supplement the findings from original studies. Other non-original studies (non-systematic literature reviews, comments, opinions, letters and editorials etc.) were excluded. In general, we sought studies in which patients were actively engaged in designing research. Participation in surveys was only considered to be research engagement when the main purpose of the survey was to obtain patients' values and preferences that relate to research prioritization or research design.
Patient advisory group
The protocol of this systematic review was developed after consultation with patients from the Patient Advisory Council [
12
]. This is a group of volunteer patients from Rochester, Minnesota who have contributed to the design of multiple studies over the last 10 years. The group helped in developing the questions and outcomes of the review and advised on terminology. They also reviewed the results and provided feedback on the presentation of findings, usefulness and applicability.
Search
Electronic search
An expert librarian (PJE) collaborated with a methodologist (MHM) to develop the search strategy. We searched biomedical electronic databases [PubMed/Ovid MEDLINE, Ovid EMBASE, Ovid PsycInfo, Ovid Cochrane, EBSCO CINAHL, SCOPUS, Web of Science (multidisciplinary scientific content), Business Search Premier, Academic Search Premier and Google Scholar (communications, marketing, public opinion, and business literature that incorporate non-healthcare resources)] from their inception through November 2011 (Additional file
1
).
To identify additional candidate studies we reviewed reference lists from eligible studies and conducted additional MEDLINE searches using the PubMed "related articles" feature for eligible studies. We used SciSearch for publications that cited eligible studies to supplement the database search.
Environmental scan
We complemented the database search with an environmental scan and a manual search. The environmental scan includes searching the Internet using various search engines for recent and ongoing activities, initiatives, white papers and websites to identify key players and trends in the field. It helps provide content from grey (unpublished) literature and from fields other than medicine. We also searched the scientific search engines Scirus and Sciverse, which contain scientific journal content, scientists' homepages, courseware, pre-print server material, patents, and institutional repository and website information. In addition, we contacted experts in the field to identify other relevant documents (e.g., dissertations, scientific reports). The environmental scan, as expected, identified some of the published literature already included in the systematic review; overlapping references were excluded.
Study selection
We collated initial references in citation files (using Endnote software), removed duplicates, and screened titles and abstracts against eligibility criteria using DistillerSR software (Evidence Partners Incorporated, Ottawa, Canada). Studies were reviewed in duplicate until almost perfect agreement (Kappa > 0.80) [
13
] was achieved, after reviewing 200 potentially includible references. Disagreements in the initial screening were automatically included. Potentially eligible studies were then reviewed in full text following a similar procedure. Disagreements in full-text screening were reconciled by discussion, consensus, or arbitration by study principal investigator (MHM). We exclusively used electronic file formats (Portable Document Format/PDF), in reference management software to reduce costs and paper use.
Data extraction
Data were extracted from included studies using a standardized form developed based on the protocol. We tested this form using a small sample (n = 10) of randomly selected studies, from which all reviewers extracted data. The first author (JPD) evaluated each extraction form and compared the extracted data between reviewers and discussed discrepancies with them.
Data extracted from each study included: study description (e.g., demographics of participants and research setting), methods used to select patients (defined as a patient, surrogate, caregiver, community member, or other stakeholder informing research), measures set in place to enhance the validity or completeness of identifying patients (e.g., selecting methods –convenience, random, volunteer, training level for the task), measures of validity or accuracy of the information or input given by participants (the patient's voice, e.g., validation of the patient reported outcome measurement, congruence of patient's voice with other stakeholders), description of methods used to implement/incorporate the patient's voice in research, and any reported outcomes of patient engagement. We also captured authors' recommendations about the methods to be used for eliciting the patient's voice and facilitating patient engagement.
Analysis
Results
Search and selection results
Overall we identified 5,562 possibly relevant citations, of which 142 met the eligibility criteria and were included. Studies reported a spectrum of engagement. Studies described patient engagement in research preparation phase (35), execution phase (90) and translation phase (52). Some studies contributed to our understanding of more than one phase.
In terms of the 4 key questions of this review, we found 121 studies that contributed to our understanding of the first question regarding patient selection; 45 studies that contributed to our understanding of the second question regarding engagement methods; 43 studies that reported on the third question regarding engagement outcomes; and 36 studies that reported on the fourth question regarding barriers and challenges of engagement. Many studies contributed to our understanding of more than one of the 4 key questions.
The study selection process is described in Figure
2
. The studies included 8 systematic reviews, 7 randomized trials and 24 observational studies; the remaining majority (103) consisted of qualitative studies. Additional file
3
: Tables S1 and S2 describe the characteristics of the systematic reviews and original studies. Due to the qualitative component of our research question and the heterogeneity of studies design, the methodological quality of the included studies was evaluated using selected items from the list proposed by the Critical Appraisal Skills Programme (CASP) [
18
,
19
]. The studies overall had a few limitations particularly in the areas of patient selection and data synthesis (Additional file
3
: Table S3). Additional file
3
: Table S4 shows the list of initiatives and patient organizations engaging patients in research identified by the environmental scan.
×
Overview of existing systematic reviews
Key questions
Discussion
This meta-narrative systematic review identified numerous heterogeneous studies in which patients or their surrogates (other patients) were successfully engaged in the research process. The engagement was feasible in most of the published cases we found, but faced several challenges and barriers. Most studies claimed some benefits of this process; however, there were no comparative data to suggest best practices.
Strengths and limitations
Heterogeneity of study populations, methods, and outcomes constitute limitations of this synthesis. Publication and reporting biases might have impacted the conclusions of this report and their impact cannot be estimated. Our search may have missed studies in which patient engagement was performed due to the lack of uniform reporting or indexing methods of engagement. Evaluating the quality of patient engagement is challenging due to unavailability of validated scales and the limited data reported in the studies. We did not find the standard tools for assessing the methodological quality of the studies particularly useful because such assessment actually relates to the outcomes of the study and not to the outcome of patient engagement. Such assessment can be misleading as it is quite possible to have a study with low risk of bias for its primary and secondary outcomes that performed tokenistic or ineffective patient engagement.
Our results are consistent with other systematic reviews in the field [
1
,
8
,
9
]. The current review updates the evidence base to date and provides a contemporary look at patient engagement. Developed with active participation from patients, researchers, and the PCORI staff (as an external experts' advisory group that did not participate in conducting this SR), this systematic review takes priority in establishing the baseline starting point from which we need to advance the science of patient engagement in research. This review utilized a comprehensive and sensitive search strategy that spanned across multiple databases and was augmented by an environmental scan of non-peer-reviewed relevant sources to further capture related studies, web sites, and interest groups. Our application of an a priori protocol for selecting and appraising evidence reduces selection bias. The thematic analysis of this review sought to ensure presenting the evidence without over-interpreting its signals and silences, a key concern in this area.
Practical implications
At the present time we are unable to recommend best practices on the basis of comparative evidence. However, many methods are described in the literature with reported success. In terms of identifying patients for engagement, random sampling is the least biased way although considering that the number of patients chosen for engagement is very small, random sampling can fail. This approach is also challenging in rare diseases. Most of the included studies used volunteers which is a more practical method despite the potential for having a sample of patients that are not truly representative of the targeted population. Volunteers may be more educated and motivated and engage more effectively, yet they may have personal agendas. At the present time, we suggest that researchers choose their method of selection based on the availability of subjects and the research topic at hand.
Engaging patients in all research phases (preparatory, execution and translation) seems feasible in most cases. This was even demonstrated in populations and communities with high prevalence of social inequities (intellectual disparities, poverty, unemployment and illiteracy) traditionally considered difficult to reach [
36
–
40
]. The engagement process may improve the credibility of results and their applicability to the target population and may have an empowering effect on participants. Potential risks (harms and costs) for engaged patients should be balanced against the broad range of articulated potential benefits.
Future research in this field is greatly needed to demonstrate the value of patient engagement to researchers and funders. For example, patient engagement when conducting systematic reviews has been recommended by the Agency for Healthcare Research and Quality Evidence-based Practice Centers, the Institute of Medicine, the Cochrane Collaboration, and others [
41
]. Yet, there is no guidance on how to perform this engagement. A possible study in this field can randomize systematic reviewers to test three approaches, one without engaging patients, one with engaging patients with the condition being studied, and one with engaging patients with any condition (general patients). Qualitative studies can be embedded in most trials to evaluate different engagement strategies or engagement in different phases of the trials. Clinical practice guidelines are mostly done without patient engagement;[
42
] however this engagement is described by many as paramount and essential [
43
,
44
]. The impact of patient representation on guideline panels cane be studied using qualitative research methods to determine if their presence was tokenistic or meaningful. Lastly, we recommend that bibliographic databases use indexing terms that identify active patient engagement in research to facilitate future research in this field.
Conclusions
Patient engagement in healthcare research is likely feasible in many settings. However, this engagement comes at a cost and can become tokenistic. Research dedicated to identifying the best methods to achieve engagement is lacking and clearly needed.
Acknowledgements
We thank members of the Patient Advisory Group, Mayo Clinic, Rochester, for providing feedback at various stages of this project.
This systematic review was funded by the Patient-Centered Outcomes Research Institute (PCORI).
Competing interests
The authors declare that they have no competing interests.
Authors' contributions
All listed authors significantly contributed to this project. Study protocol was developed by MHM, VMM, JPD and PJE. JPD, GP, TE, ZW, NA, AA, MN, JB, KB, RH and BF carried out study selection and data extraction. NS, DE and JS provided the content expertise for study design and participated in writing the discussion section of the manuscript. PJE is the reference librarian who conducted the literature search. VMM and MHM provided the methodological expertise and supervised the work. All authors read and approved the final manuscript.