19.05.2017 | Brief Report | Ausgabe 11/2017 Open Access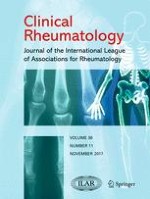 Patient experiences, attitudes and expectations towards receiving information about anti-TNF medication: a quantitative study
Zeitschrift:
Autoren:

Jon Packham, Paul Arkell, Tom Sheeran, Ann Brownfield, Anthony Cadwgan, Sarah Ryan
Wichtige Hinweise
Key messages
1. There is potential to improve drug counselling to ensure that patients act safely and appropriately.
2. Improved patient education could reduce risks around vaccination, cancer screening and infection-related drug cessation.
3. Rheumatology nurse education is highly valued by patients, particularly those with complex disease.
Abstract
The objective of the study was to measure patient attitudes and experience of information received during drug counselling for rheumatoid arthritis (RA) medications. This is a cross-sectional UK postal questionnaire study. Three RA patient groups—disease-modifying antirheumatic drugs (DMARDs) only, first anti-tumour necrosis factor (anti-TNF) and failed anti-TNF—were sent postal questionnaires. Data on patient history/demographics, drug counselling experience, knowledge of drug side effects, attitudes to vaccinations, cancer screening and blood borne virus testing was collected; 264/679 (39%) patients responded (median age 65 years, 66% female, median disease duration 15 years). Drug information from rheumatology nurses, rheumatology doctors and information leaflets was most useful. Thirty-eight percent of respondents felt reassured by information received, but 37% felt more worried. Forty percent of participants were aware of important drug side effects. Although 42–65% of patients understood they should temporarily halt anti-TNF therapy with concurrent infection, 75% of patients recalled continuing therapy despite infection. Thirteen percent believed that all vaccinations (including travel vaccinations) were safe while taking anti-TNF. Uptake of UK cancer screening programmes was between 87 and 94%, except prostate screening (47%). Most participants were not aware that they may need to discontinue their anti-TNF if they developed cancer. The majority of participants felt neutral/reassured by the prospect of viral hepatitis (95%) and HIV (91%) testing. Although drug counselling is a well-established part of clinical care, there is potential for further improvement to ensure that patients' knowledge empowers them to act safely. Particular areas for improvement included the following: patients halting DMARDs/anti-TNF therapy during infections, knowledge regarding vaccinations and prostate cancer screening uptake.