28.04.2016 | Original Research | Ausgabe 2/2016 Open Access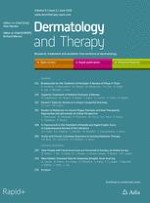 Patient Preferences for Topical Psoriasis Treatments are Diverse and Difficult to Predict
Zeitschrift:
Autoren:

Lars Iversen, Henny B. Jakobsen
Abstract
Introduction
Topicals are a mainstay in psoriasis vulgaris treatment and are used concomitantly even in patients receiving systemic therapy. Patient acceptance of topical treatment can impact adherence and, consequently, real-life effectiveness. This study aimed to identify patient preferences for topical treatment attributes and to evaluate patient acceptability of topical treatments.
Methods
This 5-day study evaluated three inactive presentations: fixed combination calcipotriol/betamethasone dipropionate (Cal/BD) ointment vehicle in a tube, Cal/BD gel vehicle in a bottle and Cal/BD gel vehicle in a new Applicator delivery system. Participants with psoriasis on ≥2 locations were recruited, aiming for equal proportions in the categories: male/female; <40/≥40 years old; working/not working. Participants ranked a predefined 'wish list' of 13 topical treatment attributes, applied each product and evaluated them in a user survey, indicating how well the products delivered on 16 statements matching the 13 attributes. Afterward, participants indicated preference by psoriasis plaque location.
Results
Patient preferences differed to the extent that the proportion rating an attribute of high importance was similar to the proportion rating the same attribute of low importance. All attributes received similar mean ranking scores. Analysis by demographic characteristics revealed preferences are not associated with gender, age or employment status. Participants did not perceive much difference between the gel and ointment, but expressed preferences for different presentations to treat different plaque locations. The gel Applicator was preferred for 8/14 locations and both gel presentations were strongly preferred for hairy scalp.
Conclusions
Patients with psoriasis have diverse preferences, which cannot be predicted by demographics. Individual patient choice should be considered to increase the acceptability and a range of topical formulations should be available to support treatment adherence and improve clinical outcomes.
Funding
LEO Pharma A/S, Ballerup, Denmark.