24.10.2016 | Original Article | Ausgabe 6/2016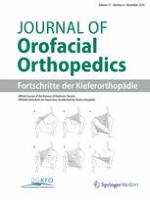 Patient survey on Invisalign® treatment comparen the SmartTrack® material to the previous aligner material
Autoren:

Anne-Kathrin Bräscher, Dietmar Zuran, Robert E. Feldmann Jr., Justus Benrath
Wichtige Hinweise
A.-K. Bräscher and D. Zuran contributed equally to the manuscript.
Abstract
Objectives
In 2013, a novel material SmartTrack® was introduced to replace the previous material used for Invisalign® aligners. We conducted this study to test how this transition was accepted by patients during ongoing Invisalign® treatment.
Methods
We surveyed a total of 72 patients (68 % women, 32 % men, mean age: 29.3 ± 9.2 years) who had worn the new material for a mean of 6 months. They completed a questionnaire with 25 items that compared both materials in terms of pain, pressure upon insertion, comfort, mucosal irritation, phonetics, discoloration, and taste.
Results
On a numerical rating scale (NRS) ranging from 0 to 10, the new aligner material was rated by the respondents to cause significantly (
p
< 0.001) less maximum pain than the old material (2.8 vs. 3.8). Significant reductions were obtained for duration of pain (
p
< 0.001) and duration of pressure (2.5 vs. 1.9 days;
p
= 0.001) upon insertion of the aligners. Over 90 % of the respondents indicated less or equal pain during eating, felt that the new material offered a tighter fit, and provided more favorable ratings for impairment, durability, and discoloration. Improved comfort was reported by 50 % of the respondents.
Conclusions
The new material was favorably rated by the patients and showed significant reductions in pain intensity, pain duration, and pressure upon insertion. Important clinical parameters like overall comfort and impairment also were improved. The clinical effectiveness of the new material remains to be investigated.