01.12.2016 | Research article | Ausgabe 1/2016 Open Access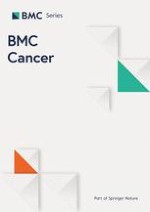 Patients with hepatic breast cancer metastases demonstrate highly specific profiles of matrix metalloproteinases MMP-2 and MMP-9 after SIRT treatment as compared to other primary and secondary liver tumours
Zeitschrift:
Autoren:

Olga Golubnitschaja, Kristina Yeghiazaryan, Helena Stricker, Daniela Trog, Hans H. Schild, Leonard Berliner
Abstract
Background
Patients with primary and metastatic liver malignancies represent a highly heterogeneous patient pool characterised by some of the shortest life expectancies amongst oncology patients. Investigation and better understanding of liver malignancies is an emerging field which requires high-quality multidisciplinary research and collaboration.
Methods
A study of 158 patients with primary hepatic carcinomas and secondary liver metastases, altogether 15 cancer types of different origin, who underwent selective internal radiation therapy (SIRT) with Yttrium90 or transarterial chemoembolisation, was undertaken in an effort to detect distinguishing features with respect to activity profiles of both blood matrix metalloproteinase (MMP-2 and MMP-9).
Results
Noteworthy, stratification of all hepatic cancer groups with respect to MMP-2 and MMP-9 activities revealed characteristic patterns specifically in patients with hepatic breast cancer metastases who had undergone SIRT. In contrast to all other groups, these patients demonstrated well-consolidated profiles of both MMPs, reflecting a common feature, namely an immediate and durable increase of their activity after the SIRT treatment. Although the total number of patients in the breast cancer group is relatively small (15 patients), since increased activities of MMP-2 and MMP-9 are well known prognostic factors for poor outcomes of oncologic patients, the significance and clear group-specificity (from 15 ones investigated here) of this previously unanticipated finding requires particular attention and further investigations. Particularly important is to determine, whether this increase of the metalloproteinase activity was provoked by SIRT, as well as whether special selection criteria are required for patients with breast cancer metastases to the liver who are being considered for SIRT.
Conclusions
It is recommended that a more focused, multidisciplinary and large-scaled investigations of the possible adverse effects of SIRT in patients with advanced metastatic disease of breast cancer be undertaken, with an appropriate patients' stratification, set-up of the relevant patient profiles and disease modelling.