01.01.2017 | Research | Ausgabe 1/2017 Open Access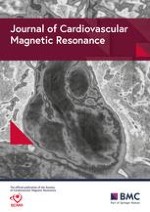 Pattern and prognostic value of cardiac involvement in patients with late-onset pompe disease: a comprehensive cardiovascular magnetic resonance approach
Zeitschrift:
Autoren:

Matthias Boentert, Anca Florian, Bianca Dräger, Peter Young, Ali Yilmaz
Abstract
Background
Pompe disease is an autosomal recessive disorder caused by deficiency of the lysosomal α–1,4-glucosidase leading to accumulation of glycogen in target tissues with progressive organ failure. While the early infantile-onset form is characterized by early severe hypertrophic cardiomyopathy with cardiac and respiratory failure, clinically relevant cardiomyopathy seems to be uncommon in patients with late-onset Pompe disease, and the prevalence and nature of myocardial abnormalities are still to be clarified.
Methods
Seventeen patients with genetically proven late-onset Pompe disease (50 ± 18 years, 11 male) and 18 age- and gender-matched healthy controls (44 ± 10 year, 12 male) underwent comprehensive cardiovascular magnetic resonance (CMR) including conventional and advanced techniques: cine and feature tracking-based strain imaging for depiction of (even subtle) systolic LV dysfunction as well as late gadolinium enhancement (LGE) and myocardial extracellular volume fraction (ECV) quantification for focal and diffuse fibrosis detection.
Results
All patients had normal left ventricular (LV) and right ventricular (RV) volumes and normal LV and RV ejection fraction. In comparison to healthy controls, neither conventional cine nor advanced feature-tracking based-strain imaging could depict any (subclinical) myocardial systolic dysfunction. Three (18%) of the patients had non-ischemic LGE in the basal inferolateral wall and 21% demonstrated elevated global ECV values suggestive of interstitial myocardial fibrosis. Non-specific abnormalities such as left atrial (LA) dilatation were present in two patients, while LV hypertrophy was seen only in one. Two of the three LGE-positive patients were also hypertensive and demonstrated high global ECV values (>30%) in addition to dilated LA. After a median follow-up of 25 (11–29) months, only one cardiovascular event occurred: one of the LGE-positive patients with a high cardiovascular risk profile suffered an acute coronary syndrome.
Conclusion
In contrast to the early infantile-onset form of Pompe disease, mild and rather non-specific cardiac abnormalities can be detected by CMR only in a small proportion of patients with late-onset Pompe disease. The observed structural abnormalities seem to result from an interplay between the storage disease and other comorbidities and they did not affect short-term to mid-term prognosis in adult Pompe patients.