01.12.2017 | Research | Ausgabe 1/2017 Open Access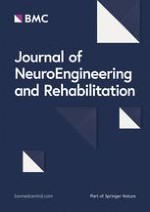 Pattern of improvement in upper limb pointing task kinematics after a 3-month training program with robotic assistance in stroke
Zeitschrift:
Autoren:

Ophélie Pila, Christophe Duret, François-Xavier Laborne, Jean-Michel Gracies, Nicolas Bayle, Emilie Hutin
Abstract
Background
When exploring changes in upper limb kinematics and motor impairment associated with motor recovery in subacute post stroke during intensive therapies involving robot-assisted training, it is not known whether trained joints improve before non-trained joints and whether target reaching capacity improves before movement accuracy.
Methods
Twenty-two subacute stroke patients (mean delay post-stroke at program onset 63 ± 29 days, M2) underwent 50 ± 17 (mean ± SD) 45-min sessions of robot-assisted (InMotion™) shoulder/elbow training over 3 months, in addition to conventional occupational therapy. Monthly evaluations (M2 to M5) included Fugl-Meyer Assessment (FM), with subscores per joint, and four robot-based kinematic measures: mean target distance covered, mean velocity, direction accuracy (inverse of root mean square error from straight line) and movement smoothness (inverse of mean number of zero-crossings in the velocity profile). We assessed delays to reach statistically significant improvement for each outcome measure.
Results
At M5, all clinical and kinematic parameters had markedly improved: Fugl-Meyer, +65% (median); distance covered, +87%; mean velocity, +101%; accuracy, +134%; and smoothness, +96%. Delays to reach statistical significance were M3 for the shoulder/elbow Fugl-Meyer subscore (+43%), M4 for the hand (+80%) and M5 for the wrist (+133%) subscores. For kinematic parameters, delays to significant improvements were M3 for distance (+68%), velocity (+65%) and smoothness (+50%), and M5 for accuracy (+134%).
Conclusions
An intensive rehabilitation program combining robot-assisted shoulder/elbow training and conventional occupational therapy was associated with improvement in shoulder and elbow movements first, which suggests focal behavior-related brain plasticity. Findings also suggested that recovery of movement quantity related parameters (range of motion, velocity and smoothness) might precede that of movement quality (accuracy).
Trial registration
EudraCT
2016–005121-36
. Date of Registration: 2016–12-20. Date of enrolment of the first participant to the trial: 2009–11-24 (retrospective data).