16.11.2017 | Invited Review | Ausgabe 2/2018 Open Access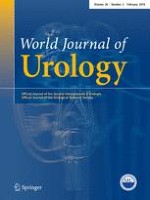 Patterns and predictors of recurrence after open radical cystectomy for bladder cancer: a comprehensive review of the literature
Zeitschrift:
Autoren:

Andrea Mari, Riccardo Campi, Riccardo Tellini, Giorgio Gandaglia, Simone Albisinni, Mohammad Abufaraj, Georgios Hatzichristodoulou, Francesco Montorsi, Roland van Velthoven, Marco Carini, Andrea Minervini, Shahrokh F. Shariat
Wichtige Hinweise
Electronic supplementary material
Introduction
Bladder cancer (BC) is the 9th most commonly diagnosed cancer and is ranked 13th for cancer deaths in the overall population in 2015 worldwide. Approximately 30% of newly diagnosed bladder cancer patients present with muscle-invasive BC (MIBC) disease with 10–15% of cases already metastatic at diagnosis. The risk of progression for high-risk non-MIBC after 5 years is 45% [
1
]. The standard treatment for patients with clinically localized (cT2-T4a N0M0) MIBC is radical cystectomy (RC) with bilateral pelvic lymph node dissection (PLND). The use of neoadjuvant chemotherapy (NAC) may be a valid option for MIBC but its benefit is still debated. In addition, it is reasonable to propose immediate RC to those patients with non-MIBC at highest risk of progression. Furthermore, early RC should be offered to all patients with non-MIBC failing endovesical therapy [
1
].
Unfortunately, a significant proportion of patients with MIBC experiences recurrence and eventually death after RC. There is no definitive evidence regarding the recurrence rate after RC. In particular, the definition of local and distant recurrence is not standardized, the recurrence-free survival (RFS) is highly variable and the specific timing of recurrence is not well defined across the published series [
2
–
5
]. Several factors have been variously associated with recurrence after RC. However, the different patient selection and the variable use of preoperative treatments among studies could affect the impact on the analysis of predictors of recurrence after RC.
Under this light, we aimed to review the currently available literature reporting the patterns of recurrence and their predictive factors after open RC. Moreover, we critically assessed the current limitations of the published series outlining potential implications for future research.
Materials and methods
A comprehensive review of the English-language literature was performed using the MEDLINE, Scopus and Web of Sciences databases from January 1st, 1997 to May 1st, 2017 following the preferred reporting items for systematic reviews and meta-analyses (PRISMA) statement using the following keywords: "recurrence" or "relapse" or "metastasis" and "bladder cancer" or "urothelial bladder cancer" and "radical cystectomy" (Fig.
1
). After a first screening based on study title and abstract, all papers were assessed based on full text and excluded with reasons when appropriate. Two reviewers (A.M. and R.C.) carried out this process independently. Disagreement was solved by a third party (G.H.). The list of articles that were judged to be highly relevant by these authors was reviewed by all coauthors until a final consensus was reached on the articles included in the analysis. The "risk-of-bias" evaluation of the studies included to investigate the recurrence rate (
n
= 48) was assessed according to the Cochrane Handbook for Systematic Reviews of Interventions [
6
].
×
Evidence synthesis
A total of 1481 articles were identified. After exclusion of duplicates, case reports, congress abstracts, editorials and papers with topics that were not specific for this review, 1125 papers were selected for full-text assessment of eligibility. After full-text evaluation, 355 studies were included for the analysis of predictors of recurrence in patients treated with radical cystectomy. Of these, 48 studies were included for the assessment of recurrence rate (Fig.
1
).
Type of studies and quality of the evidence
For the analysis of the predictors of recurrence, 313 studies were retrospective, 14 were prospective and 27 were randomized clinical trials (RCTs). Sample size ranged between 33 and 9064 patients. Most series involved multiple surgeons. For the analysis of recurrence rate, 29 studies were retrospective, 3 were prospective and 16 were RCTs. Sample size ranged between 110 and 9064 patients. Risk of bias evaluation is summarized in Supplementary Table 1.
Definition and controversies
EAU Guidelines defined local recurrence after RC as any recurrence that takes place in soft tissues at the original surgical site or lymph nodes (LN) in the area of PLND [
1
]. Data in literature are very inconsistent, as a detailed discrimination between local and distant recurrence is not always present. Similarly, the percentages of RFS are highly variable even across large surgical series. Moreover, some studies include different neoadjuvant or adjuvant chemotherapy (AC) regimens, which may hinder the overall interpretation of surgical series.
Recurrence rates in patients treated with open RC
In a retrospective study involving 4118 patients naïve of NAC treated at several institutions, the RFS was 63, 60 and 57% at 3, 5 and 10 years, respectively [
2
]. Xylinas et al. [
3
] analyzed the oncologic outcomes of 2145 patients naïve of NAC treated at European and US institutions with open RC for pT1-T3N0 urothelial BC. The RFS was 68% at a median follow-up of 48 months. Similarly, Zehnder et al. reported the oncologic outcomes of 1488 patients at a median follow-up of 162 months [
4
]. Overall, 6% received NAC and 3% preoperative radiotherapy (RT). The 5- and 10-year RFS were 68 and 64%, respectively, with a time to recurrence ranged from 0 to 29.2 years.
The recurrence rates in patients treated with NAC and open RC are still undetermined. In most of the retrospective studies, a low percentage of patients receive NAC due to the contraindications and the underuse reported in several centers. The best shreds of evidence come from RCTs, even if the real number of patients effectively submitted to the combined therapy is difficult to estimate due to the variable number of patients declining NAC and of those not completing the full number of cycles for adverse events.
In the experimental arm from the BA06 30894 (International Collaboration of Trialists) RCT, 491 BC patients with T2-4N0-xM0 stage underwent NAC (cisplatin, methotrexate, and vinblastine) and radical treatment (50% RC, 42% radical RT and 8% preoperative RT plus RC) [
7
]. The median locoregional disease-free and metastasis-free survival for the group were 23 months (47% at 3 years) and 32 months (45% at 3 years). In the Southwest Oncology Group (SWOG) RCT, 153 patients with T2-4N0M0 stage BC were randomly assigned to methotrexate, vinblastine, doxorubicin, and cisplatin (MVAC) NAC and subsequent RC [
8
]. At 5 years, 57% of the patients were alive. After a median follow-up of 8.7 years, 35% of patients died of disease. In a meta-analysis, the oncologic outcomes of 2491 patients treated with NAC and radical treatment (RC, radical RT, or preoperative RT and RC) from 10 clinical RCTs were reported. The locoregional disease-free survival was 166/217 (76.5%) and 1232/1963 (62.8%) in patients treated with single agent platinum and platinum-based combination, respectively. The metastasis-free survival rate was 154/217 (71%) and 1181/1963 (60.2%) in patients treated with single agent platinum and platinum-based combination, respectively.
According to the studies included in this review, the reported local recurrence rate after open RC was between 29.9 and 53.8%, and the 5-year RFS rates from 58 to 80.9%. The median follow-up of studies included in the analysis ranged from 18 to 350 months.
Predictive factors of recurrence-free survival in patients treated with open RC
Conclusions
A significant proportion of patients relapse after RC for MIBC. Local recurrence rate ranges between 30 and 54%. Distant recurrence is not often standardized and is reported in up to 50% of cases.
Higher age, female gender, and smoking exposure at the time of RC are the most relevant epidemiological predictors of recurrence after RC. Preoperative higher NLR and lower hemoglobin are significantly associated with a worse RFS. Obesity is an independent predictor of RFS. The presence of micropapillary, neuroendocrine features and LVI at TUR specimen, hydroureteronephrosis and cT3b-T4a disease are clinical factors defining a high-risk disease, and are independent predictors of RFS after RC. Among the histologic patterns, LVI, pure VH and concomitant CIS have an independent correlation with RFS after open RC. Advanced tumor stage, multifocality, positive STSMs and LN involvement are the most relevant pathologic predictors of RFS after RC. A limited PLND resulted to be significant intraoperative predictors of recurrence. Better oncologic outcomes were reported in patients submitted to ePLND, while a sePLND seemed to not provide a significantly lower recurrence rate.
Acknowledgements
Open access funding provided by Medical University of Vienna.
Compliance with ethical standards
Conflict of interest
The authors declare that they have no conflict of interest.
Human participants and/or animals
The present research does not involve any human participants or animals.
Informed consent
Informed consent was not obtained, as no individual has been included in the study.
Open Access
This article is distributed under the terms of the Creative Commons Attribution 4.0 International License (
http://​creativecommons.​org/​licenses/​by/​4.​0/​
), which permits unrestricted use, distribution, and reproduction in any medium, provided you give appropriate credit to the original author(s) and the source, provide a link to the Creative Commons license, and indicate if changes were made.