29.05.2018 | Original Article | Ausgabe 11/2018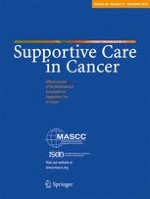 Patterns, perceptions, and perceived barriers to physical activity in adult cancer survivors
Zeitschrift:
Autoren:

Lawson Eng, Dan Pringle, Jie Su, XiaoWei Shen, Mary Mahler, Chongya Niu, Rebecca Charow, Kyoko Tiessen, Christine Lam, Oleksandr Halytskyy, Hiten Naik, Henrique Hon, Margaret Irwin, Vivien Pat, Christina Gonos, Catherine Chan, Jodie Villeneuve, Luke Harland, Ravi M. Shani, M. Catherine Brown, Peter Selby, Doris Howell, Wei Xu, Geoffrey Liu, Shabbir M. H. Alibhai, Jennifer M. Jones
Wichtige Hinweise
Electronic supplementary material
Geoffrey Liu, Shabbir M. H. Alibhai and Jennifer M. Jones contributed equally to this work.
Previously presented at the Canadian Physiotherapy Association, 2013, Montreal, QC, Canada, Abstract A062 and ASCO Quality Care Symposium, 2014, Boston, MA, Nov. 2014, Abstract 201
Abstract
Purpose
Physical activity (PA) during and after cancer treatment is associated with improved cancer- and non-cancer-related outcomes. We assessed for predictors of change in PA levels among cancer survivors.
Methods
Adult cancer survivors from a comprehensive cancer center completed a one-time questionnaire retrospectively assessing PA levels before, during, and after cancer treatment along with their perceptions of PA. Multivariable logistic regression models evaluated the association of clinico-demographics variables and perceptions of PA with changes in whether patients were meeting PA guidelines after cancer diagnosis.
Results
Among the 1003 patients, 319 (32%) met moderate to vigorous PA (MVPA) guidelines before diagnosis. Among those meeting guidelines before diagnosis, 50% still met guidelines after treatment; 12% not meeting MVPA guidelines initially met them after treatment/at follow-up. Among patients meeting guidelines before diagnosis, better ECOG performance status at follow-up, receiving curative therapy, and spending a longer time on PA initially were each associated with meeting guidelines at follow-up. After controlling for other variables, perceiving that PA improves quality of life (adjusted odds ratio, aOR = 11.09, 95%CI [1.42–86.64],
P
 = 0.02) and overall survival (aOR = 8.52, 95%CI [1.12–64.71],
P
 = 0.04) was each associated with meeting MVPA guidelines during/after treatment, in patients who did not meet guidelines initially. Only 13% reported receiving counseling, which was not associated with PA levels. Common reported barriers to PA included fatigue, lacking motivation, and being too busy.
Conclusions
Patient perceptions of PA benefits are strongly associated with improving PA levels after a cancer diagnosis. Clinician counseling should focus on patient education and changing patient perceptions.