05.12.2018 | Original Research Article | Ausgabe 6/2018 Open Access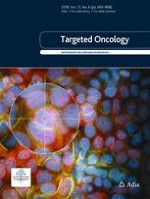 PD-1 and PD-L1 Expression in Male Breast Cancer in Comparison with Female Breast Cancer
Zeitschrift:
Autoren:

Quirine F. Manson, Natalie D. ter Hoeve, Horst Buerger, Cathy B. Moelans, Paul J. van Diest
Abstract
Background
Male breast cancer is rare, as it represents less than 1% of all breast cancer cases. In addition, male breast cancer appears to have a different biology than female breast cancer. Programmed death-1 (PD-1) and its ligand, programmed death-ligand 1 (PD-L1), seem to have prognostic and predictive values in a variety of cancers, including female breast cancer. However, the role of PD-1 and PD-L1 expression in male breast cancer has not yet been studied.
Objectives
To compare PD-1 and PD-L1 expression in male breast cancer to female breast cancer and to evaluate prognostic values in both groups.
Patients and Methods
Tissue microarrays from formalin-fixed paraffin-embedded resection material of 247 female and 164 male breast cancer patients were stained for PD-1 and PD-L1 by immunohistochemistry.
Results
PD-1 expression on tumor-infiltrating lymphocytes was significantly less frequent in male than in female cancers (48.9 vs. 65.3%,
p
 = 0.002). In contrast, PD-L1 expression on tumor and immune cells did not differ between the two groups. In male breast cancer, PD-1 and tumor PD-L1 were associated with grade 3 tumors. In female breast cancer, PD-1 and PD-L1 were associated with comparably worse clinicopathological variables. In a survival analysis, no prognostic value was observed for PD-1 and PD-L1 in either male and female breast cancer. In a subgroup analysis, female patients with grade 3/tumor PD-L1-negative or ER-negative/immune PD-L1-negative tumors had worse overall survival.
Conclusions
PD-1 seems to be less often expressed in male breast cancer compared to female breast cancer. Although PD-1 and PD-L1 are not definite indicators for good or bad responses, male breast cancer patients may therefore respond differently to checkpoint immunotherapy with PD-1 inhibitors than female patients.