01.12.2017 | Review | Ausgabe 1/2017 Open Access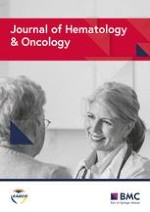 PD-1, PD-L1 (B7-H1) and Tumor-Site Immune Modulation Therapy: The Historical Perspective
Zeitschrift:
Autoren:

Jun Wang, Ruirong Yuan, Wenru Song, Jingwei Sun, Delong Liu, Zihai Li
Background
Monoclonal antibodies targeting the PD pathway have become a critical breakthrough in our long fight against cancer [
1
,
2
]. Distinct from any previous anti-cancer drugs, PD-based cancer therapy neither directly targets tumors, nor simply revamps the immune system non-specifically. It depends on the strategic modulation of a key tumor immune evasive mechanism featured by the PD-L1 (B7-H1) molecule, and controls tumor growth by resetting immune responses in the tumor microenvironment to the homeostatic and beneficial level [
3
,
4
]. Currently, several anti-PD therapeutic agents have been approved for the treatment of multiple cancer types including lung cancer, head and neck cancer, melanoma and others in the United States, Europe, as well as in Japan and other parts of the world. Numerous clinical trials are ongoing worldwide in order to broaden and increase the utility of anti-PD therapeutics to most if not all human cancers, thanks to the impressive clinical efficacy with favorable toxicities of these novel agents. The successful development of PD-modulating medicines has revolutionized the field of immuno-oncology in an unprecedented way, and opens the door for
Tumor
-
Site Immune Modulation Therapy
[
5
] that will profoundly impact basic and clinical immune-oncology research. Indeed, many outstanding reviews have been written on this topic [
3
–
12
]. Nevertheless, in this essay, we review the key milestones in the history of anti-PD drug development, and specifically highlight some of Lieping Chen's contributions to this revolutionary cancer treatment modality.
History of anti-PD drug development and the roles of Lieping Chen
Anti-PD modality and tumor-site immune modulation therapy
Lieping Chen continues his journey to discover more PD-like molecules, aiming to convert human cancers to chronic and manageable diseases via exploiting the power of the hardwired immune system. His contributions to this field have cemented his place in immuno-oncology.
Acknowledgements
We thank many members of CAHON for stimulating discussions on the topic.
Funding
Z.L. is supported by the U.S. National Institutes of Health grants DK105033, CA186866, CA188419 and AI070603.
Availability of data and materials
The material supporting the conclusion of this review has been included within the article.
Authors' contributions
All authors discussed the topic, contributed to the drafting of the manuscript and approved the final manuscript.
Competing interests
The authors declare that they have no competing interests.
Consent for publication
This is not applicable to this review.
Ethics approval and consent to participate
This is not applicable to this review.
Open Access
This article is distributed under the terms of the Creative Commons Attribution 4.0 International License (
http://​creativecommons.​org/​licenses/​by/​4.​0/​
), which permits unrestricted use, distribution, and reproduction in any medium, provided you give appropriate credit to the original author(s) and the source, provide a link to the Creative Commons license, and indicate if changes were made. The Creative Commons Public Domain Dedication waiver (
http://​creativecommons.​org/​publicdomain/​zero/​1.​0/​
) applies to the data made available in this article, unless otherwise stated.