28.04.2020 | Case Report | Ausgabe 12/2020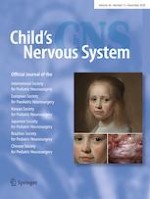 Pediatric pial arteriovenous fistula located at the bottom of the callosal sulcus presenting with intraventricular hemorrhage: a case report and literature review
Zeitschrift:
Autoren:

Masashi Kuwabara, Shigeyuki Sakamoto, Takahito Okazaki, Jumpei Oshita, Akira Taguchi, Kaoru Kurisu
Wichtige Hinweise
Publisher's note
Springer Nature remains neutral with regard to jurisdictional claims in published maps and institutional affiliations.
Abstract
Background
A pial arteriovenous fistula (pAVF) is a rare condition characterized by a direct connection between a cerebral artery and cerebral vein without an intervening nidus. The prognosis is poor in untreated cases with hemorrhagic manifestations, indicating that surgical treatment is desirable. We describe a successful endovascular treatment for a pediatric case of ruptured pAVF located at the bottom of the sulcus.
Clinical description
An 11-year-old girl presented with severe headache and mild disturbance of consciousness. Head computed tomography showed hemorrhage in the callosal sulcus and ventricle. Cerebral angiography showed an arteriovenous shunt without a nidus. The branching artery from the pericallosal artery was connected directly to the thalamostriate vein without varix, and the shunt point was located at the bottom of the callosal sulcus. The patient was diagnosed with pAVF involving a single feeder and single drainer. Emergency endovascular transarterial embolization was performed using 20% N-butyl cyanoacrylate, and the shunt disappeared completely without complications. The patient was discharged with no neurological deficits.
Conclusion
Endovascular treatment is feasible, safe, and effective for pediatric cases of deeply located pAVF.