01.12.2018 | Case report | Ausgabe 1/2018 Open Access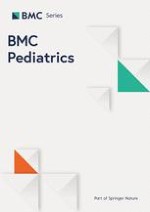 Pediatric severe asthma: a case series report and perspectives on anti-IgE treatment
Zeitschrift:
Autoren:

Virginia Mirra, Silvia Montella, Francesca Santamaria
Abstract
Background
The primary goal of asthma management is to achieve disease control for reducing the risk of future exacerbations and progressive loss of lung function. Asthma not responding to treatment may result in significant morbidity. In many children with uncontrolled symptoms, the diagnosis of asthma may be wrong or adherence to treatment may be poor. It is then crucial to distinguish these cases from the truly "severe therapy-resistant" asthmatics by a proper filtering process. Herein we report on four cases diagnosed as difficult asthma, detail the workup that resulted in the ultimate diagnosis, and provide the process that led to the prescription of omalizumab.
Case presentation
All children had been initially referred because of asthma not responding to long-term treatment with high-dose inhaled steroids, long-acting β2-agonists and leukotriene receptor antagonists. Definitive diagnosis was severe asthma. Three out four patients were treated with omalizumab, which improved asthma control and patients' quality of life. We reviewed the current literature on the diagnostic approach to the disease and on the comorbidities associated with difficult asthma and presented the perspectives on omalizumab treatment in children and adolescents. Based on the evidence from the literature review, we also proposed an algorithm for the diagnosis of pediatric difficult-to-treat and severe asthma.
Conclusions
The management of asthma is becoming much more patient-specific, as more and more is learned about the biology behind the development and progression of asthma. The addition of omalizumab, the first targeted biological treatment approved for asthma, has led to renewed optimism in the management of children and adolescents with atopic severe asthma.