01.08.2008 | Original Paper | Ausgabe 4/2008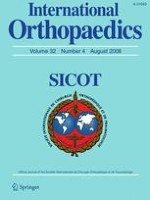 Pedicle screw insertion: computed tomography versus fluoroscopic image guidance
Zeitschrift:
Autoren:

Tsai-Sheng Fu, Chak-Bor Wong, Tsung-Ting Tsai, Yen-Chiu Liang, Lih-Huei Chen, Wen-Jer Chen
Abstract
Computed tomography image-guided surgery (CTGS) clearly improves the accuracy of pedicle screw insertion. Recent reports claim that a fluoroscopy-guided system (FGS) offered high accuracy and easy application. However, the superiority of either technique remains unclear in clinical application. This study compares the accuracy of pedicle screws installed using CTGS with that of screws installed using FGS. Seventy-four screws inserted using FGS in 13 patients and 76 screws inserted using CTGS in 11 patients were compared. The study population included ten cases of vertebral fracture, five cases of degenerative spondylolisthesis, three cases of spondylolytic spondylolisthesis, two cases of tuberculous spondylitis, two cases of failed earlier back surgery and two case of ankylosing spondylitis with pseudarthrosis. The installed vertebral levels ranged from T8 to S1. Screw positions were assessed with postoperative radiographs and computed tomography. Sixty-nine (93.2%) screws were correctly placed in the FGS group, and seventy-three (96.1%) screws were correctly placed in the CTGS group (
P
 = 0.491). The results indicated that both image-guided systems offer high accuracy. However, the fluoroscope image-guided system could be considered the primary tool for lower thoracic and lumbosacral pedicle placement because it enables real-time navigation and does not require a preoperative CT scan.