01.12.2018 | Research article | Ausgabe 1/2018 Open Access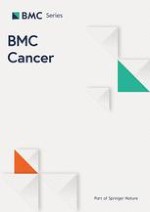 PEG-L-CHOP treatment is safe and effective in adult extranodal NK/T-cell lymphoma with a low rate of clinical hypersensitivity
Zeitschrift:
Autoren:

Wen Zheng, Yuhuan Gao, Xiaoyan Ke, Weijing Zhang, Liping Su, Hanyun Ren, Ningjing Lin, Yan Xie, Meifeng Tu, Weiping Liu, Lingyan Ping, Zhitao Ying, Chen Zhang, Lijuan Deng, Xiaopei Wang, Yuqin Song, Jun Zhu
Abstract
Background
The c
ombination of chemotherapy and L-asparaginase (L-ASP) treatment significantly increased survival rate in an adult patient with extranodal natural killer (NK)/T-cell lymphoma (NKTCL). However, hypersensitivity reactions of L-ASP in some patients limited its application. Polyethylene glycol-conjugated asparaginase (PEG-ASP) has a lower immunogenicity and longer circulating half-life than unconjugated L-ASP, and has been reported to be effective and well-tolerated in children with acute lymphoblastic leukemia. Cyclophosphamide, hydroxydaunorubicin (doxorubicin), oncovin (vincristine), and prednisolone (CHOP) is the most common chemotherapy for non-Hodgkin lymphoma. In this report, we sought to study the efficacy and safety of PEG-L- CHOP in NKTCL in adult Chinese patients.
Methods
Our study is a prospective, multi-center, open-label clinical trial. Patients with newly diagnosed adult NKTCL and an ECOG performance status of 0 to 2 were eligible for enrollment. Treatment included six cycles of PEG-L-CHOP regimen. Radiotherapy was scheduled after 2–4 cycles of PEG-L-CHOP regimen, depending on the stage and primary anatomic site.
Results
We enrolled a total of 33 eligible patients. All 33 patients completed 170 cycles of chemotherapy combined with radical radiotherapy. The overall response rate was 96.9% (32/33) with 75.8% (25/33) achieving complete responses and 21.2% (7/33) achieving partial responses. The overall survival (OS) at 1, 2, 3-year were 100, 90.61 and 80.54%, respectively. The major adverse effects were bone marrow suppression, reduction of fibrinogen level, liver dysfunction, and digestive tract toxicities. No allergic reaction and no treatment-related mortality or severe complications were recorded.
Conclusions
PEG-L-CHOP chemotherapy in combination radiotherapy is safe and durably effective treatment for adult extranodal NK/T-cell lymphoma with fewer allergic reactions.
This study was approved by the Peking University Beijing Cancer Hospital Ethics Review Committee (reference number: 2011101104). The clinical trial registration number ChiCTR1800016940 was registered on July 07, 2018 at the Chinese Clinical Trial Registry (
http://​www.​chictr.​org.​cn/​index.​aspx
). The clinical trial was registered retrospectively.