01.03.2012 | Original Article | Ausgabe 3/2012 Open Access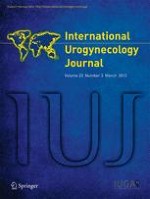 Pelvic organ prolapse and collagen-associated disorders
Zeitschrift:
Autoren:

Karin Lammers, Sabrina L. Lince, Marian A. Spath, Léon C. L. T. van Kempen, Jan C. M. Hendriks, Mark E. Vierhout, Kirsten B. Kluivers
Abstract
Introduction and hypothesis
Pelvic organ prolapse (POP) and other disorders, such as varicose veins and joint hypermobility, have been associated with changes in collagen strength and metabolism. We hypothesized that these various disorders were more prevalent in both POP patients and their family members.
Methods
In this study, the prevalence of various collagen-associated disorders, including POP, was compared between POP patients (
n
 = 110) and control patients (
n
 = 100) and their first and second degree family members.
Results
POP patients reported a higher prevalence of varicose veins, joint hypermobility and rectal prolapse and were more likely to have family members with POP as compared to the control group (
p
 < 0.01). In contrast, the family members of the POP group did not report a higher prevalence of collagen-associated disorders compared to the family members of the control group (
p
 = 0.82).
Conclusions
POP and other collagen-associated disorders may have a common aetiology, originating at the molecular level of the collagens.