01.12.2018 | Case report | Ausgabe 1/2018 Open Access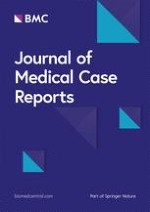 Pembrolizumab combined with stereotactic body radiotherapy in a patient with human immunodeficiency virus and advanced non-small cell lung cancer: a case report
Zeitschrift:
Autoren:

Dongqi Li, Chuanchun He, Yaoxiong Xia, Yaxi Du, Jing Zhang
Abstract
Background
Pembrolizumab has significantly improved outcomes in patients with advanced non-small cell lung cancer. Combining programmed death-1 inhibitor with stereotactic body radiotherapy showed a slight toxicity and good benefits in recent clinical trials. However, patients infected with human immunodeficiency virus were excluded from most trials because it was assumed that their anti-tumor immunity was compromised compared with immunocompetent patients.
Case presentation
In June 2016, a 52-year-old Chinese man presented with human immunodeficiency virus and lung adenocarcinoma (T1bN3M1b). From November 2016 to December 2016, systemic chemotherapy and palliative radiotherapy for bone metastasis of femoral neck were carried out, but the tumor progressed. In January 2017, after immunochemistry detection of programmed death-1 and programmed death-ligand 1 expression (both > 50%), pembrolizumab was started. Three weeks after pembrolizumab, we combined stereotactic body radiotherapy for the primary lung tumor. He received no comfort and his CD4 lymphocyte count was stable. Human immunodeficiency virus-ribonucleic acid remained below the limits of detection. In March 2017, after three cycles of pembrolizumab and 5 weeks of stereotactic body radiotherapy therapy, he suddenly presented with palpitations. Emergency computed tomography scanning showed massive pericardial effusion and interstitial pneumonia. So we interrupted the pembrolizumab use and initiated treatment with prednisolone 1 mg/kg; however, the tumor progressed. Then, his CD4 lymphocyte count declined. Finally he died in June 2017 due to dyscrasia.
Conclusions
Pembrolizumab combined with SBRT therapy for patients with human immunodeficiency virus infection and non-small cell lung cancer may lead to serious immune-related adverse events and more clinical trials are needed.