01.03.2013 | Current Management of Fungal Infections (L Ostrosky-Zeichner, Section Editor) | Ausgabe 1/2013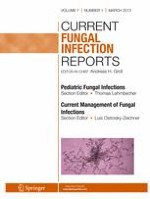 Penicillium marneffei

Infection in Immunocompromised Host
Zeitschrift:
Autoren:

Maria Chitasombat, Khuanchai Supparatpinyo
Abstract
Penicillium marneffei
(PM) was first described in 1973, causing human infection in a patient with Hodgkin Lymphoma. In the HIV/AIDS epidemic, it has been described as one of the important opportunistic infection following tuberculosis and cryptococcosis in endemic region of Southeast Asia and Southern China. Immunocompromised patients acquire penicilliosis through inhalation of conidia, resulting in disseminated disease characterized by prolonged fever, pancytopenia, hepatosplenomegaly, and classic cutaneous presentation of umbilicated papular eruption. Nowadays, rare manifestations such as fungemia, pneumonia, enterocolitis, genital ulcers, oral ulcer, and central nervous system infection have been reported. Over the past decade, molecular and genomic studies have revealed more knowledge of PM, and vaccines are under development. Modern era PM has become a serious threat in immunocompromised travelers, rather than HIV/AIDS patient in the endemic area, who receive an effective prophylaxis strategy along with the highly active antiretroviral therapy (HAART) initiation.