01.02.2020 | Original Communication | Ausgabe 5/2020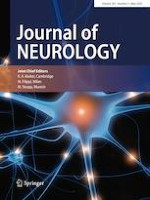 Penumbra-based radiomics signature as prognostic biomarkers for thrombolysis of acute ischemic stroke patients: a multicenter cohort study
Zeitschrift:
Autoren:

Tian-yu Tang, Yun Jiao, Ying Cui, Deng-ling Zhao, Yi Zhang, Zhi Wang, Xiang-pan Meng, Xin-Dao Yin, Yun-Jun Yang, Gao-jun Teng, Sheng-hong Ju
Wichtige Hinweise
Electronic supplementary material
Abstract
Background and Purpose
This study aimed at developing a radiomics signature (
R
score) as prognostic biomarkers based on penumbra quantification and to validate the radiomics nomogram to predict the clinical outcomes for thrombolysis for acute ischemic stroke (AIS) patients.
Methods
In total, 168 patients collected from seven centers were retrospectively included. A score of mismatch was defined as
MIS
.
Based on a short-term clinical label, 456 radiomics features were evaluated with feature selection methods.
R
score was constructed with the selected features
.
To compare the predictive capabilities of the clinical factors,
MIS
, and
R
score, three nomograms were developed and evaluated, according to the short-term clinical assessment on day 7. Finally, the radiomics nomogram was validated by predicting the 3-month clinical outcomes of AIS patients, in an external cohort.
Results
R
scores were found to be significantly higher in patients with favorable clinical outcomes in both training and validation datasets. The predictive value of the radiomics nomogram estimating favorable clinical outcomes was modest, with a concordance index (C-index) of 0.695 [95% confidence interval (CI) 0.667–0.723) in an external validation dataset. In addition, the area under curve (AUC) of the radiomics nomogram predicting favorable clinical outcome reached 0.886 (95% CI 0.809–0.963) on day 7 and 0.777 (95% CI 0.666–0.888) at 3 months.
Conclusions
The radiomics signature is an independent biomarker for estimating the clinical outcomes in AIS patients. By improving the individualized prediction of the clinical outcome for AIS patients 3 months after onset, the radiomics nomogram adds more value to the current clinical decision-making process.