01.03.2012 | Regular Article | Ausgabe 2/2012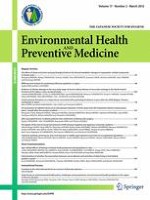 Perception of the risk of sexual transmission of HIV among Congolese and Japanese university students
Zeitschrift:
Autoren:

Nlandu Roger Ngatu, Ryoji Hirota, Masamitsu Eitoku, Basilua Andre Muzembo, Makoto Nishimori, Manatsu Kuramochi, Shuhei Shintani, Shin Inoue, Ruriko Takiuchi, Marina Maegawa, Daniel Ribble, Muaka Anselme Mbenza, Nani-Tuma Hippolyte Situakibanza, Pita Damien Mbanzulu, Narufumi Suganuma
Abstract
Objective
Sub-Saharan Africa remains the region most heavily affected by HIV infection. This study aimed to evaluate the knowledge, attitudes, and practices of Congolese students of risk behaviors for sexual transmission of HIV in comparison with their Japanese counterparts.
Methods
Of the 1,747 undergraduate students who participated in the survey, there were 1,326 respondents (752 Japanese, 574 Congolese) who voluntarily and fully filled out the auto-administered questionnaire.
Results
The proportion of Congolese respondents who do not always use condoms with an occasional sex partner was significantly higher, 57%, as compared with their Japanese counterparts (15%;
p
< 0.001). Fewer than 40% (9.9–39.7%) of Congolese respondents had accurate knowledge about multiple sex partnership (MSP), men sex with men (MSM), precocious sex, and commercial sex work (CSW) being high-risk behaviors (
p
< 0.001) for the sexual transmission of HIV infection. However, the proportion of Congolese tested or willing to get tested for HIV was significantly higher (97.2%) than that in the Japanese group (72.4%,
p
< 0.001). In Congolese students, we observed an absence of adherence to preventive measures such as condom use with an occasional sex partner, and a greater proportion of students having inaccurate knowledge of major risk behaviors such as MSM, precocious sex, and MSP, compared with their Japanese counterparts.
Conclusions
This study showed that, though sexual contact remains the main mode of HIV transmission in the region, Congolese students tend to have inaccurate knowledge of risk behaviors that expose people to the sexual transmission of HIV. This suggests that continuous education targeting those risk behaviors is of great importance to reduce the spread of the HIV epidemic.