20.05.2016 | Ausgabe 10/2016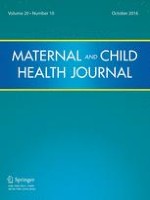 Perceptions of Body Size in Mothers and Their Young Children in the Galapagos Islands
Zeitschrift:
Autoren:

Julee B. Waldrop, Rachel A. Page, Margaret E. Bentley
Abstract
Introduction
Little specific information has been published about the health of people who live in the Galapagos Islands. As part of determining the status of the nutrition transition that may be occurring in the islands mothers of young children in the Galapagos perceptions of their child's body size and therefore health status was evaluated along with actual body size.
Methods
This paper presents data collected as part of a pilot study that used a mixed methods approach to identify and describe health and nutrition issues for mother–child pairs on Isla Isabela in Galapagos, Ecuador. It includes participant anthropometric assessment and self-perception of body size using silhouettes for themselves and one of their children along with open-ended questions to elicit further understanding of body size perceptions. Twenty mothers of children greater than 6 months of age but less than 6 years of age were interviewed.
Results
The women preferred a smaller body size for themselves but a larger body size for their children. Findings of different body size combinations between mothers and children in the same household demonstrated that the island is undergoing or may be post the nutrition transition.
Discussion
This dual burden of body weights (especially overweight or obese mothers) in the same household with underweight, normal and overweight or obese children and the potential nutrition related chronic disease burden in the future will require more educational resources and innovative health services than are currently available for the people of the Galapagos.