01.05.2014 | Research | Sonderheft 1/2014 Open Access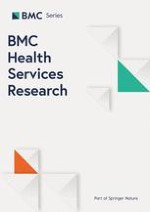 Perceptions of health stakeholders on task shifting and motivation of community health workers in different socio demographic contexts in Kenya (nomadic, peri-urban and rural agrarian)
Zeitschrift:
Autoren:

Beverly Marion Ochieng, Edith Akunja, Nancy Edwards, Diana Mombo, Leah Marende, Dan CO Kaseje
Wichtige Hinweise
Competing interests
The authors declare no competing interests.
Authors' contributions
BMO supervised data collection, spearheaded data analysis, and synthesized the contributions of the other authors into the first draft of the manuscript. She further engaged actively in the revision of the manuscript in response to critiques from internal peer reviewers. EA participated in data analysis and drafted the section concerning the nomadic context. NE developed analysis framework, participated in data analysis, and carried out technical critique of the manuscript. DM and LM analyzed the data from rural and peri-urban sites, respectively, and drafted the respective components of the manuscript. DCOK designed the study, management the research process, supervised all aspects of the study and the team members, participated in the analysis of data, synthesized the contributions from other authors into the manuscript, and took the lead in editing the manuscript based on internal peer reviewers' comments. All authors read and approved the final manuscript.
Abstract
Background
The shortage of health professionals in low income countries is recognized as a crisis. Community health workers are part of a "task-shift" strategy to address this crisis. Task shifting in this paper refers to the delegation of tasks from health professionals to lay, trained volunteers. In Kenya, there is a debate as to whether these volunteers should be compensated, and what motivation strategies would be effective in different socio-demographic contexts, based type of tasks shifted. The purpose of this study was to find out, from stakeholders' perspectives, the type of tasks to be shifted to community health workers and the appropriate strategies to motivate and retain them.
Methods
This was an analytical comparative study employing qualitative methods: key informant interviews with health policy makers, managers, and service providers, and focus group discussions with community health workers and service consumers, to explore their perspectives on tasks to be shifted and appropriate motivation strategies.
Results
The study found that there were tasks to be shifted and motivation strategies that were common to all three contexts. Common tasks were promotive, preventive, and simple curative services. Common motivation strategies were supportive supervision, means of identification, equitable allocation of resources, training, compensation, recognition, and evidence based community dialogue.
Further, in the nomadic and peri-urban sites, community health workers had assumed curative services beyond the range provided for in the Kenyan task shifting policy. This was explained to be influenced by lack of access to care due to distance to health facilities, population movement, and scarcity of health providers in the nomadic setting and the harsh economic realities in peri-urban set up. Therefore, their motivation strategies included training on curative skills, technical support, and resources for curative care. Data collection was viewed as an important task in the rural site, but was not recognized as priority in nomadic and peri-urban sites, where they sought monetary compensation for data collection.
Conclusions
The study concluded that inclusion of curative tasks for community health workers, particularly in nomadic contexts, is inevitable but raises the need for accreditation of their training and regulation of their tasks.