01.12.2017 | Research article | Ausgabe 1/2017 Open Access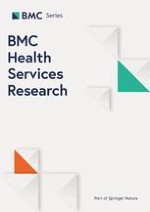 Perceptions of interprofessional collaboration of general practitioners and community pharmacists - a qualitative study
Zeitschrift:
Autoren:

Christin Löffler, Carolin Koudmani, Femke Böhmer, Susanne D. Paschka, Jennifer Höck, Eva Drewelow, Martin Stremme, Bernd Stahlhacke, Attila Altiner
Abstract
Background
Despite numerous evidences for the positive effect of community pharmacists on health care, interprofessional collaboration of pharmacists and general practitioners is very often limited. Though highly trained, pharmacists remain an underutilised resource in primary health care in most western countries. This qualitative study aims at investigating pharmacists' and general practitioners' views on barriers to interprofessional collaboration in the German health care system.
Methods
A total of 13 narrative in-depth interviews, and two focus group discussions with 12 pharmacists and general practitioners in Mecklenburg-Western Pomerania, a predominantly rural region of North-Eastern Germany, were conducted. The interviews aimed at exploring general practitioners' and pharmacists' attitudes, views and experiences of interprofessional collaboration. At a second stage, two focus group discussions were performed. Fieldwork was carried out by a multi-professional team. All interviews and focus group discussions were audio taped and transcribed verbatim. The constant comparative method of analysis from grounded theory was applied to the data.
Results
There are three main findings: First, mutual trust and appreciation appear to be important factors influencing the quality of interprofessional collaboration. Second, in light of negative personal experiences, pharmacists call for a predefined, clear and straightforward way to communicate with physicians. Third, given the increasing challenge to treat a rising number of elderly patients with chronic conditions, general practitioners desire competent support of experienced pharmacists.
Conclusions
On the ground of methodological triangulation the findings of this study go beyond previous investigations and are able to provide specific recommendations for future interprofessional collaboration. First, interventions and initiatives should focus on increasing trust, e.g. by implementing multi-professional local quality circles. Second, governments and health authorities in most countries have been and still are reluctant in advancing political initiatives that bring together physicians and pharmacists. Proactive lobbying and empowerment of pharmacists are extremely important in this context. In addition, future physician and pharmaceutical training curricula should focus on comprehensive pharmacist-physician interaction at early stages within both professional educations and careers. Developing and fostering a culture of continued professional exchange and appreciation is one major challenge of future policy and research.