07.10.2016 | Original Research | Ausgabe 11/2016 Open Access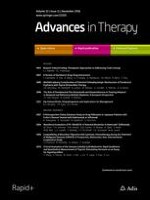 Perceptions of Oncologists, Healthcare Policy Makers, Patients and the General Population on the Value of Pharmaceutical Treatments in Oncology
Zeitschrift:
Autoren:

José A. Sacristán, Luís Lizan, Marta Comellas, Pilar Garrido, Cristina Avendaño, Juan J. Cruz-Hernández, Javier Espinosa, Tatiana Dilla
Abstract
Introduction
The purpose of this study was to explore the main factors explaining the relative weight of the different attributes that determine the value of oncologic treatments from the different perspectives of healthcare policy makers (HCPM), oncologists, patients and the general population in Spain.
Methods
Structured interviews were conducted to assess: (1) the importance of the attributes on treatment choice when comparing a new cancer drug with a standard cancer treatment; (2) the importance of survival, quality of life (QoL), costs and innovation in cancer; and (3) the most worrying side effects related to cancer drugs.
Results
A total of 188 individuals participated in the study. For all participants, when choosing treatments, the best rated characteristics were greater efficacy, greater safety, treatment adaptation to patients' individual requirements and the rapid reincorporation of patients to their daily activities. There were important differences among participants in their opinion about survival, QoL and cost. In general, oncologists, patients, and the general population gave greater value to gains in QoL than healthcare policy makers. Compared to other participants healthcare policy makers gave greater importance to the economic impact related to oncology treatments.
Conclusions
Gains in QoL, survival, safety, cost and innovation are perceived differently by different groups of stakeholders. It is recommended to consider the perspective of different stakeholders in the assessment of a new cancer drugs to obtain more informed decisions when deciding on the most appropriate treatment to use.
Funding
Eli Lilly & Co, Madrid (Spain).