01.03.2018 | Mechanisms of Hypertension (M Weir, Section Editor) | Ausgabe 3/2018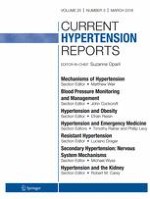 Percutaneous Creation of a Central Iliac Arteriovenous Anastomosis for the Treatment of Arterial Hypertension
Zeitschrift:
Autoren:

Stefan C. Bertog, Nathan A. Sobotka, Paul A. Sobotka, Melvin D. Lobo, Kolja Sievert, Laura Vaskelyte, Horst Sievert, Roland E. Schmieder
Wichtige Hinweise
Electronic supplementary material
The original version of this article was revised: The second author's name Nathan A. Sobotka was inadvertently left out of the byline. Also, the author names were changed from initials to spelled out.
This article is part of the Topical Collection on
Mechanisms of Hypertension
Key Learning Points
• Older age is the strongest predictor of resistant hypertension which is likely to be driven by arterial (and in particular aortic) stiffening leading to the structural hypertension phenotype characterized by increased pulse pressure and isolated systolic hypertension
• Responses to devices such as RDN and BAT have been shown to be significantly attenuated in patients with ISH suggesting that sympathomodulation alone is insufficient to target arterial hypertension with advanced stiffening of large arteries.
• A novel approach with a cAV anastomosis appears to effectively target both structural and systo-/diastolic hypertension producing significant and sustained reduction in ambulatory BP
• Additional effects of the cAV anastomosis are likely to include increase in ANP/BNP and engagement of low-pressure baroreceptors to suppress the high-pressure baroreflex-mediated increase in sympathetic tone that usually accompanies BP lowering
• Future iterations of the coupler will aim at improving the ease of implantation as well as reducing the incidence of ipsilateral venous stenosis and cardiovascular efficacy and safety
Abstract
Purpose of Review
Provision of a summary on the physiologic effects of arteriovenous fistula creation and description of previously published human data on the efficacy of a percutaneously implanted device creating an arteriovenous fistula. Though antihypertensive therapy is effective, some patient's blood pressure remains poorly controlled despite adherence to optimal medical therapy. Moreover, some patients are not compliant with recommended medical therapy due to side effects or personal decision. This has prompted exploration of alternative, device-based antihypertensive therapies including, among others, the percutaneous creation of an arteriovenous fistula. An arteriovenous fistula is accompanied by a number of favorable physiologic changes that may lower blood pressure. These physiologic changes, conduction of the procedure, and previously published human experience are summarized in this review article.
Recent Findings
The results of a recently published trial comparing arteriovenous fistula creation and standard antihypertensive therapy versus standard antihypertensive therapy alone are summarized.
Summary
Creation of an arteriovenous fistula is accompanied by a significant blood pressure reduction likely related to a reduction in total arterial resistance, perhaps blood volume reduction, inhibition of the baroreceptor reflex, and release of natriuretic peptides. These findings foster further interest in studying the impact of an arteriovenous fistula and arterial blood pressure. The design of a large randomized trial comparing arteriovenous fistula creation to sham control is outlined.