01.12.2015 | Research article | Ausgabe 1/2015 Open Access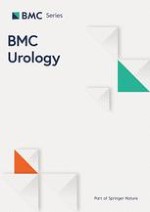 Performance of 5-aminolevulinic-acid-based photodynamic diagnosis for radical prostatectomy
Zeitschrift:
Autoren:

Hideo Fukuhara, Keiji Inoue, Atsushi Kurabayashi, Mutsuo Furihata, Taro Shuin
Wichtige Hinweise
Competing interests
The authors declare that they have no competing interests.
Authors' contributions
TS designed and contributed to this study. HF and KI made substantial contributions to the conception and design of the study and acquisition of data, and drafted the manuscript and figures/tables. AK and MF performed the pathological review. All authors read and approved the final manuscript.
Abstract
Background
The aim of this study was to investigate whether we could detect positive surgical margins during open and laparoscopic radical prostatectomy by 5-aminolevulinic acid (ALA) photodynamic diagnosis (PDD) and mapping of red fluorescence in human prostate cancer cells.
Methods
All 52 patients were diagnosed with prostate cancer by biopsy. They had a positive core in the apex or highly suspicious positive margins. Open and laparoscopic radical prostatectomy was performed in 18 and 34 cases, respectively. One gram of ALA solution was given intraoperatively, orally through a stomach tube. An endoscopic PDD system, including a D-Light C, CCU Tricam SLII/3CCD CH Tricam-P PDD, and HOPKINS II Straight Forward Telescope 0°, was used. The D-Light C light source was equipped with a band-pass filter. The CCU Tricam SLII/3CCD CHTricam-P PDD video camera system was equipped with a long-pass filter. The laparoscopy optic component was equipped with a yellow long-pass filter.
Results
One of the 52 patients had a red-fluorescent-positive margin of the excised whole prostate and the positive surgical margin was histologically confirmed. In the section of excised prostate, we obtained 141 biopsied samples. The sensitivity and specificity were 75.0 % and 87.3 %, respectively.
Conclusions
Intraoperative ALA-PDD is feasible. However, heat degeneration and length of positive surgical margin have crucial influences on red fluorescence. In future, a randomized clinical trial should be carried out.