01.10.2020 | Observational Research | Ausgabe 1/2021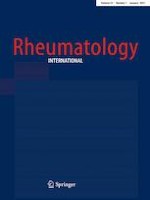 Performance of the new Eurofever/PRINTO classification criteria in Familial Mediterranean fever patients with a single exon 10 mutation in childhood
Zeitschrift:
Autoren:

Fatma Aydın, Tuba Kurt, Müge Sezer, Nilüfer Tekgöz, Zahide Ekici Tekin, Cüneyt Karagöl, Serkan Coşkun, Banu Çelikel Acar
Wichtige Hinweise
Publisher's Note
Springer Nature remains neutral with regard to jurisdictional claims in published maps and institutional affiliations.
Abstract
The diagnosis of Familial Mediterranean fever (FMF) based on clinical findings supported by genetic mutation. Recently, the new Eurofever/PRINTO classification criteria including genetic analysis were established. The aim of this study is to evaluate the performance of the new criteria in FMF patients with a single exon 10 mutation in childhood. The study group consisted of FMF patients who had a single exon 10 mutation in a referral center in Turkey. Patients with periodic fever, aphthous stomatitis, pharyngitis and adenitis (PFAPA) syndrome were included as a control group. The medical charts of all patients were reviewed retrospectively. A total of 106 FMF patients (59 boys) were enrolled in the study group. The median age at first symptom was 5; the median age at diagnosis was 7 years. The mean follow-up was 33 ± 35.4 months. Majority of the patients (
n
 = 58, 54.7%) had heterozygous M694V, 16 (15%) patients had M694V/E148Q and 13 (13.8%) patients had heterozygous M680I mutation. The sensitivity of the Yalcinkaya-Ozen criteria was 98.1% and it was 97.1% for the Eurofever/PRINTO classification criteria. The specificity of the new Eurofever/PRINTO classification criteria was 96.7% and it was 74.1% for the Yalcinkaya-Ozen criteria. The new Eurofever/PRINTO classification criteria have a good sensitivity as the Yalcinkaya-Ozen criteria in patients with a single exon 10 mutation. Additionaly, the new criteria have better specificity. It should be useful to apply the clinical only criteria where the carrier rate is high.