02.02.2019 | Original Article | Ausgabe 1/2019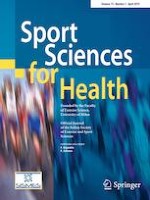 Performance, rating of perceived exertion and physiological responses during a Brazilian jiu-jitsu match: comparisons between winning and losing athletes
Zeitschrift:
Autoren:

Emerson Franchini, João Paulo Lopes da Silva
Wichtige Hinweise
Publisher's Note
Springer Nature remains neutral with regard to jurisdictional claims in published maps and institutional affiliations.
Abstract
The purpose of the present study was to describe the physiological, perceptive and performance responses across Brazilian jiu-jitsu (BJJ) match simulation and compare them between winning and losing athletes. Fourteen male adult BJJ athletes (age: 25.8 ± 3.4 years; height: 174.8 ± 9.2 cm; body mass: 79.6 ± 12.4 kg; training experience: 7.0 ± 2.5 years), 6 brown and 8 black belts participated in this study. All athletes performed a combat simulation of 10 min. Heart rate (HR), rating of perceived exertion (RPE) and maximal isometric handgrip strength (MIHS) were evaluated before the combat and during the combat after the 2nd, 4th, 6th, 8th, and 10th minutes, while blood lactate ([La]) was measured before and after the combat simulation. Results indicated that, irrespective of the match outcome (i.e. winner or loser), significantly higher (
P
 < 0.05, partial
η
2
 = 0.346–0.922, large) values of [La], HR, RPE, and MIHS were observed after the combat simulation when compared to before the combat. However, no significant differences between the winner and loser athletes were found (
P
 > 0.05). These results suggest that the effort performed and the physiological and perceptual responses are similar among BJJ athletes competing against each other.