01.12.2021 | Review | Ausgabe 1/2021 Open Access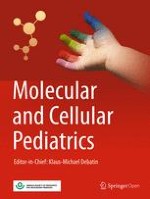 Perinatal origins of chronic lung disease: mechanisms–prevention–therapy—sphingolipid metabolism and the genetic and perinatal origins of childhood asthma
Zeitschrift:
Autoren:

Emily Wasserman, Stefan Worgall
Wichtige Hinweise
Publisher's Note
Springer Nature remains neutral with regard to jurisdictional claims in published maps and institutional affiliations.
Abbreviations
COPD
Chronic obstructive pulmonary disease
GWAS
Genome-wide association studies
SNP
Single-nucleotide polymorphism
ORMDL3
ORMDL sphingolipid biosynthesis regulator 3
SPT
Serine palmitoyl transferase
COPSAC2010
Copenhagen Prospective Study of Asthma in Childhood
VDAART
Vitamin D Antenatal Asthma Reduction Trial
Introduction
Asthma is a heterogenous, chronic condition clinically identified by episodic shortness of breath, wheeze, and sometimes cough [
1
]. Once thought of as a single disease, asthma is now recognized as a spectrum of immunopathology culminating in a final common pathway of chronic airway inflammation, reversible airway obstruction, increased mucus production, and airway hyperreactivity. Globally, over 300 million people are affected by asthma and though the disease can occur at any age, it most often develops in childhood [
2
,
3
]. Globally, asthma is a leading cause of childhood chronic illness [
4
]. The epidemiologic burden, which traditionally fell to metropolitan areas in high-income countries, is now increasing in low-income countries who also shoulder a disproportionate amount of asthma-related morbidity and mortality [
2
]. Available interventions to both prevent and treat severe asthma require frequent and expensive interactions with the health care system which limit school participation, work productivity, and overall quality of life [
5
]. Children with severe asthma are more likely to have symptoms persist through adulthood. The risk of adult-onset chronic obstructive pulmonary disease (COPD) is strongly associated with childhood deficiencies in lung function, measured by spirometry [
2
,
6
,
7
]. It remains unclear if the trajectory connecting childhood asthma and long-term respiratory morbidity can be reversed [
8
]. However, there is mounting evidence that exposures in the peri-natal and infant period serve as priming events for abnormal lung growth and lung inflammation, reflecting a possible avenue for childhood asthma prevention.
Classification systems for pediatric asthma have evolved significantly, and with them, the spectrum of asthma investigation. Chronic airway inflammation was previously considered the foundation of the two other key disease features, airway hyperresponsiveness and airway remodeling. Previous characterizations focused on the presence or absence of atopic, T-helper type 2 (Th2) cell inflammation [
9
‐
12
]. Briefly, the Th2 pathway begins with allergen stimulation of Th2 cytokines (IL-4, IL-5, IL-9, IL-13) which trigger IgE release by B cells, which together promote histamine and leukotriene release by mast cells and eosinophilic inflammation [
13
]. General dampening of this inflammatory response by steroids or therapies targeting specific mediators within this pathway, i.e., leukotriene inhibitors and anti-IgE, IL4, or monoclonal antibodies, have been greatly effective for some but also revealed a broad group of pediatric non-responders with seemingly non-atopic and/or non-steroid responsive disease [
14
,
15
].
The limitations of allergy-based asthma therapies have driven efforts to develop more personalized methods for disease monitoring and treatment, beginning with the characterization of disease "endotypes." With the advancement of high throughput technologies evolved a comprehensive approach, including genetic, metabolic, molecular, and clinical characteristics, to define more granular endotypes (Fig.
1
) [
8
,
10
,
16
,
17
]. This led to the increased recognition of non-Th2 inflammatory pathways including, Th1 and Th17, and the complex regulation of cells and cell mediators traditionally considered Th2. A subgroup of children with asthma display airway eosinophilia without associated Th2 cytokines [
18
]. Sputum transcriptomics has linked this type of airway eosinophilia to gene signatures from metabolic, ubiquitination, and mitochondrial function pathways [
19
]. The full range of asthma endotypes is beyond the scope of this review and is described in detail elsewhere [
15
,
20
‐
22
]. Despite the application of multi-omic technologies and related advances in asthma classification and treatment algorithms, therapy-resistant phenotypes persist, and early-life therapies have yet to change the long-term disease trajectory. Given the significant implications of childhood asthma on life-long respiratory health, there is an urgent need to address the origins of childhood disease. It is within this framework that sphingolipid metabolism has become a topic of interest for a fresh look on pathogenesis and therapies of childhood asthma.
×
Sphingolipids are bioactive molecules increasingly recognized in lung inflammation and airway hyperreactivity. Besides asthma, sphingolipids have been implicated in a host of chronic pulmonary disorders including bronchopulmonary dysplasia, chronic obstructive pulmonary disease (COPD), and cystic fibrosis [
4
]. In the context of asthma, attention turned to sphingolipids after genome-wide association studies (GWAS) reproducibly associated childhood asthma, and early-life wheeze with single-nucleotide polymorphisms (SNPs) within the region of chromosome 17q21 and increased expression of the sphingolipid synthesis regulator ORMDL3 [
23
‐
25
]. Since then, aberrations in sphingolipid metabolism and gene expression have been seen in pediatric asthma cohorts [
26
,
27
]. Animal models and in vitro studies have connected sphingolipid metabolism to clinical features of asthma, including airway hyperreactivity [
28
,
29
]. This review will summarize the principal findings supporting a pathway from genetic and perinatal disruptions of sphingolipid metabolism to childhood asthma.
Genetic dysregulation of sphingolipid metabolism in childhood asthma
External factors influencing sphingolipid homeostasis
17q21 asthma risk alleles alter sphingolipid synthesis gene expression, leaving these pathways vulnerable to further disruption. Extrinsic factors, separately related to asthma, can influence sphingolipid synthesis. This includes perturbations of the host microbiome, maternal diet and obesity, and respiratory viruses. In the presence of 17q21 risk alleles, these elements may synergize to become the "second hit" necessary to shift sphingolipid metabolism toward asthma pathogenesis.
Maternal obesity during pregnancy
The in utero period is a critical time in lung development with long-term consequences for respiratory disorders [
46
‐
51
]. There is strong evidence to support a link between childhood asthma and maternal obesity during pregnancy [
50
‐
63
]. Large cohorts of mother-child dyads have shown an association between maternal obesity and early life bronchodilator use [
58
], but not atopic eczema or hay fever [
55
], suggesting that maternal obesity confers a non-atopic asthma phenotype. Interestingly, the VDAART study also found a relationship between childhood asthma and maternal sphingolipids in the third trimester. The risk of asthma correlated positively with maternal blood sphingomyelins levels and was inverse with maternal blood Sa1P [
64
]. The relationship between maternal obesity and sphingolipids requires further investigation, as both are strongly linked to non-atopic childhood asthma and early life wheeze.
Host microbiome
Respiratory viruses
Viral pathogens are responsible for most acute asthma attacks. There is substantial evidence that common respiratory viruses are not only a source of asthma-related morbidity, but also critical to disease inception. Infection with respiratory syncytial viral (RSV) [
86
] or human rhinovirus (HRV) [
87
] in the first 3 years of life significantly increases the risk of asthma later in childhood [
88
]. Epidemiologic studies have unmasked temporal relationships between early life viral infection and later allergen sensitization. Animal models have further revealed enhanced allergen sensitization and allergic airway inflammation following infection with influenza [
89
], RSV and HRV [
90
].
Both RSV and HRV interact with the sphingolipids during infection. RSV utilizes ganglioside GM1 in the assembly and release of viral particles [
91
]. RSV can also stimulate neutral ceramidase and SphK1 in lung epithelial cells prolonging their survival and in term, viral infection [
92
]. GWAS studies found early-life RV illness significantly strengthened the relationship between 17q21 asthma risk alleles and childhood asthma [
93
], suggesting RV is an important catalyst in asthma development. In vitro studies have exposed interactions between RV and sphingolipid synthesis. RV infection increases ceramide sphingolipids in epithelial cells [
94
]. Silencing of ORMDL3 in airway epithelial cells increases de novo sphingolipid synthesis and decreases expression of ICAM-1, the receptor for the majority of RV strains [
95
]. Inhibiting SPT also increases epithelial cell ICAM-1 expression [
95
] and RV replication [
96
]. These studies suggest genetic dampening of SPT activity may augment cellular responses to RV, allowing viral infection to further disrupt sphingolipid synthesis.
Therapeutic manipulation of the sphingolipid pathway
Collectively, these studies suggest infancy and the perinatal period represent a vulnerable time for children with 17q21 asthma risk alleles. The maternal metabolome, with its many influences, along with common intrapartum and early-life exposures can irrecoverably offset their suboptimal sphingolipid homeostasis. The question that emerges is if the sphingolipid synthesis pathway can serve as a novel therapeutic target for both, prevention, and treatment of childhood asthma. Pharmacologic modification of sphingolipid metabolism in mice can attenuate asthma symptoms. Intranasal administration of FTY720, a structural analog of sphingosine, which can be phosphorylated by SphK and then act as an antagonist for S1PRs, reduces airway inflammation and hyperreactivity [
34
]. Similar effects can be elicited by inhibition of SphK1 [
97
]. To overcome the effects of decreased sphingolipid de novo synthesis a recent study trialed fenretinide, a dihydroceramide desaturase inhibitor that indirectly stimulates the de novo pathway, and GlyH-101, a chloride channel blocker that increases levels of multiple sphingolipids by an unknown mechanism [
29
,
98
]. Both agents increased de novo sphingolipid metabolites in lung epithelial cells and reduced agonist-induced contraction in proximal and peripheral airways [
29
]. These studies suggest pharmacologic both induction of the de novo pathway and antagonizing some effects S1P are viable options for mitigating airway hyperreactivity.
Conclusion
Asthma is a major cause of morbidity for children around the world. Multi-omic analyses of large pediatric cohorts have exposed several connections between sphingolipids and asthma/early life wheeze. These suggest asthma evolves from dynamic shifts in sphingolipid homeostasis, beginning with 17q21 asthma risk alleles and advancing with critical perinatal exposures that exacerbate genetic disruptions of sphingolipid metabolism. Maternal factors including weight, diet, mode of delivery, and intrapartum antibiotic use can directly and indirectly, via the gut microbiome, alter sphingolipid production. Post-partum, respiratory viral infections, and alterations of the airway microbiome can worsen these aberrations (Fig.
3
). Together, these factors appear to tip the homeostatic balance toward lower de novo sphingolipid synthesis and increasing S1P.
×
Since the initial identification of 17q21 as an asthma risk region for childhood asthma, much attention has focused on how factors regulated and expressed in this region relate to the pathogenesis of childhood asthma. As a basic mechanism, genetically altered sphingolipid metabolism in children who are carriers of 17q21 asthma risk genotypes is thought to lead to functional effects on airway resistance and may act as a predisposing factor for the development of asthma. Study results in recent years suggest a strong association of 17q SNPs with the phenotype of persistent and intermediate wheezing in childhood, but not to allergic disease. It is possible that a specific form of childhood asthma exists that is characterized by decreased sphingolipid concentrations associated with 17q21 gene variants. Animal models suggest direct pharmacologic manipulation of the sphingolipid pathway can reset this balance. More work is needed to understand the role of sphingolipids in childhood asthma, as means of both preventing and treating this common disease.
Acknowledgements
We acknowledge the generous support of Ronay Menschel, Christine and Pasco Alfaro, and Joanna Weiss.
Declarations
Ethics approval and consent to participate
Not applicable
Consent for publication
Not applicable
Competing interests
The authors declare that they have no competing interests.
Open Access
This article is licensed under a Creative Commons Attribution 4.0 International License, which permits use, sharing, adaptation, distribution and reproduction in any medium or format, as long as you give appropriate credit to the original author(s) and the source, provide a link to the Creative Commons licence, and indicate if changes were made. The images or other third party material in this article are included in the article's Creative Commons licence, unless indicated otherwise in a credit line to the material. If material is not included in the article's Creative Commons licence and your intended use is not permitted by statutory regulation or exceeds the permitted use, you will need to obtain permission directly from the copyright holder. To view a copy of this licence, visit
http://​creativecommons.​org/​licenses/​by/​4.​0/​
.
Publisher's Note
Springer Nature remains neutral with regard to jurisdictional claims in published maps and institutional affiliations.